---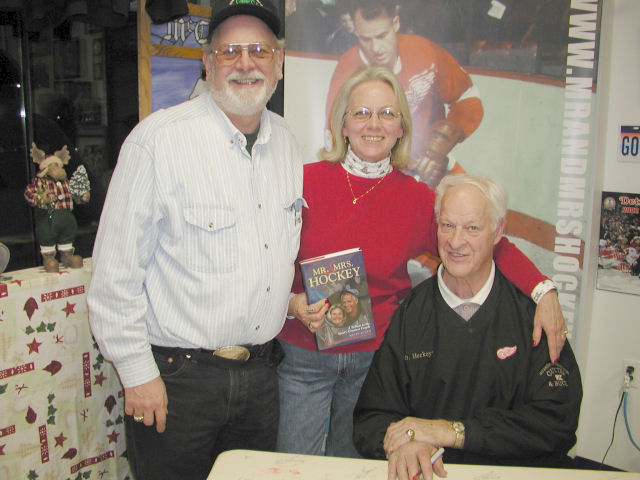 Here is our own Editor and Co-Editor, Rick and Mary Jane Dawson with the
Mr. Hockey, Gordie Howe.
---
Grand Junction, CO, April 2004

Wayne Brimner, Ed Marvin, Norval Larsen, Buck Holman, Harry Teegarden & Al Hosier
---
30th birthday of the Los Angeles Center
3/27/1966
This occasion was the 30th birthday of the Los Angeles Center. It also commemorated the passing of a milestone in traffic count, so that the facility was being upgraded. All of this was quite a party as you can imagine!
Jack Hilton #1919

Audrey Hilton, Jack Hilton, Mrs. Marks and Fred Marks
---
Central California/Tahoe Reunion
The weather was mild, the hills were green, and the champagne was chilled. That was the setting for a brunch held at Santa Rosa's Oakmont Village. Overlooking the golf course, one had a view that matched the excellence of the cuisine on that 6th day of May 2004.
Organized by Phyllis Rebuschatis, this one of a kind event was dual purposed. One was to honor her husband Robert, who had not survived long enough to attend. He was one of Flight Standards topflight check pilots and all around planner. Second, the idea was to bring together as many as possible of the ones that had for so many many years enjoyed the ambience of the Tahoe Reunion. Ralph and Harriette Anglea cannot be thanked enough for sharing their beautiful home year after year.
To top off the brunch, Phyllis's son Robert Jr. gave a very interesting and educational presentation on wine production as it relates to Sonoma County's weather. He is so qualified he made a complex endeavor sound simple.
Last, if anyone could provide leadership for the next "Tahoe Reunion" please check with Jim Holtsclaw, SOAP Executive Director or Ralph Anglea.
Reported by Jerry Long #2514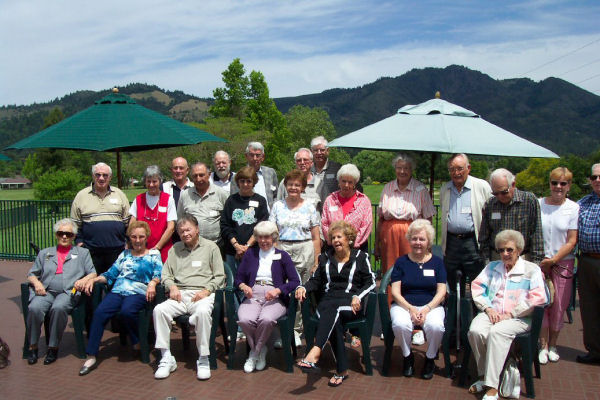 ---
Ray Maddox's 75th Birthday
Thanks to Ed Marvin #2452

Wayne & Pat Brimner (AT), Norval & Arlone Larsen (AF), Ed Marvin (AT),
Harold & Carol (Unruh) Smith (AF), Res Stucker (AF), Pat & George Wong
(AT), Virgil & Pat Berridge (AT), Ray Maddox (AF), Isabel Marvin (AT)
Grand Junction 2004

Isabel Marvin, Pat Brimner, Arlone Larsen with Ray Maddox

Harry Teegarden (AF) at the Teegarden Farm. Grand Junction, CO 2004
---
Every now and then Bob Bartley, Don Crist, Bob Hess, and I get together on a Saturday morning at Denny's Restaurant in Orangevale and rehash the years in McClellan Rapcon. We all live in the same general area. I will be leaving the pack in September as the wife and I are moving to Federal Way, WA to be near our younger son. After living in the same house for 45 years it is tough to leave but we are getting older everyday and need to be near one of the family. We are getting tired of doing yardwork and house maintenance and will lease a townhome and let someone else do the work. The house sale is in escrow and was sold in ten days so escrow should be done 9/3/04.
Bob Bartley is still working for Folsom Lake Ford in the fleet department. Bob Hess, Don Crist, and I are retired. I worked 24 years delivering cars and trucks for a lot of companies in the Sacramento area after retiring from the FAA. The last 5 years I worked with Bob at Folsom Lake Ford. We have known each other since 1956 when I entered the LAX Center when it was at the airport and I was one of his trainees. Both of us came to the Mather Rapcon in 1959 and Bob has lived in the same home two streets from our home. Bob Hess transfered from SAC tower the same time and Don Crist arrived a little later in the year. Bob lives in Orangevale and has a half acre with fruit and nut trees that occupies much of his time. Don Crist does a lot of traveling in his motorhome enjoying the good life. All of us are healthy and have our wives so can't complain.
Vern Gravning