Thanks For The Memories – FAA Retirees Reunion – 25 Years
To view a full size picture click here: Lake Tahoe
Written by Helen Little

The spring of 1978 the Eric Larsons' and William Hollenbecks' invited a few of their "old" Oakland ATC friends to join them for a joint wedding anniversary party at their cabin at Lake Tahoe. It was such fun we wanted to do it again so that we wouldn't lose touch again.

In 1979 Phyllis Rebuschatais, Helene Hopson and Phyllis Cerny expanded the idea to include all branches of the FAA at a park in Tahoe Paradise. Then came the next picnic reunion at the Ralph Angleas' great Tahoe place – 21 years of great hospitality! ! In between we had two get-togethers on the Sacramento Delta and two in the Sierras Hope Valley. Along the way we had some super entertainment from our own "picker" and singer – plus he loaned us his PA systems for all these years. – Thanks, Tony Bellu.

In 1987 I started a golf tournament for the day prior to the picnic with - of course – a 19th hole party at my cabin. Thanks to Bob Faulkner and Roland Cerny for figuring the scoring and prizes for all those years. I needed more help so a year later Don & Lori Brink came to give me a hand. I really couldn't have managed without them – so thanks to them. Joan and Joe Pidd came along to help at the Angleas' organizing supplies and food – a great help to the Angleas.

We've had a fantastic time these past 25 years. Thanks to all of you for the wonderful memories.

Attendees at the 2003 picnic were:

Hervey Aldridge, Harriette & Ralph Anglea, Nelson & Dorine Ames, Elif & Irene Anderson, Barbara & Ed Arri, Jan & Bob Bishop, Lori & Don Brink, Nancy & Ed Custer, Jo & Bob Faulkner, Steve Brashear, Elayne & Daryl Finch, Len Galloway, Pat & Gerald Gibson, Billie & Earl Halliday, Joanne & Joe Harrel, Sandra & Charles Henderson, Ruth Hendricks, Jim & Carol Holtsclaw
Helene & Tom Hopson, Cheryl & "Chig" Horner, Helen & Glenn Hursey, Harvey Johnson, "Lyn" Kitchel,
Mary & Ed Lewis, Helen Little, Lola & Eric Larson, June & Jerry Long, Judie & Jim Lougheed, Kay & Forney Lundy, Bev & Don Manville, Carole & R.C. Ostergren, Pearl & Ritchie Phillips, Joan & Jo Pidd, Phyllis Rebuschatais, Lowell Thoreson, Elanine & Ross Thornton, Eillen Rivera, Jon Simeon, Hans Van Nord, Helen & Bob Vaughn, Marlette & Deloyd Weems, George Whitehead, Judy & Bob Wright, Andra & Harlan Goertz, Pat & Bob Harik, Jacquelyn & Bob Proett, Tony & Maxie Bellu, Harry Maier, Norm Satterthwaite, Betty Fletcher, Cleo Hamilton, Jim & Leeann McClenahen

PHOTO CREDIT to R.C. Ostergren
---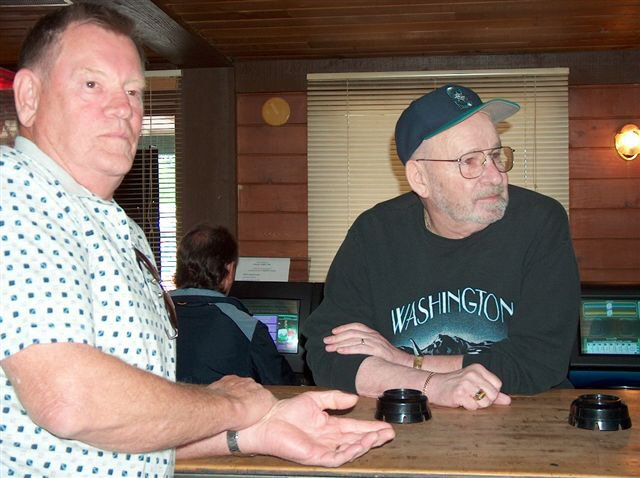 Neil Prindle & Lyle Scott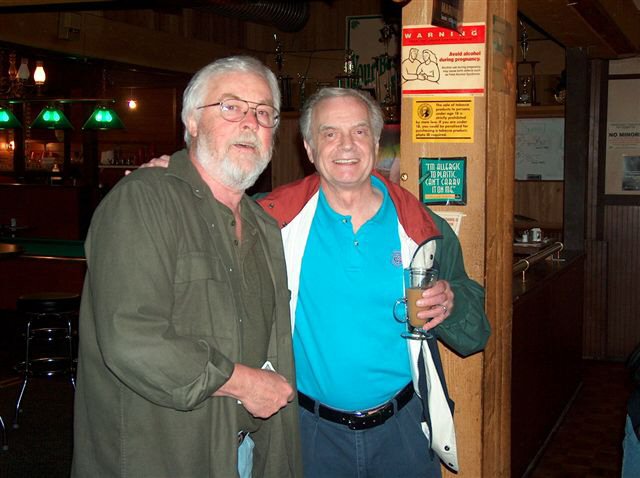 Chuck Bird & Bruce Harpham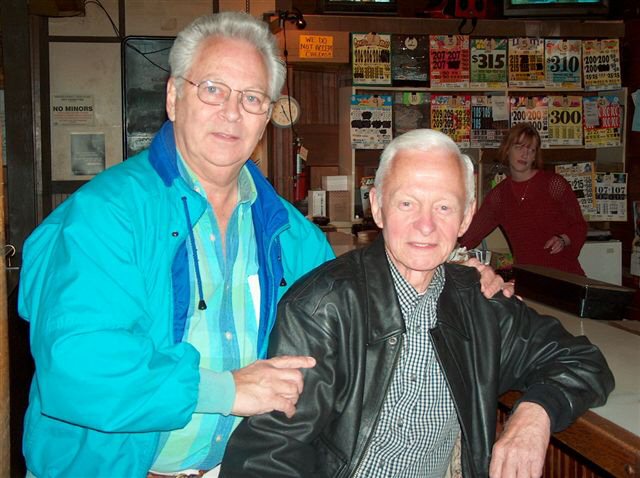 Bob Earl & Bob Alexander

Monte Gillespie & Larry Brennis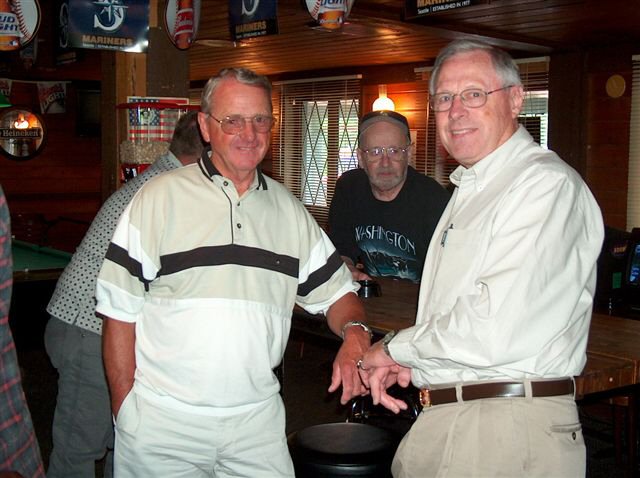 Roy Keehnel & George Hickish; Lyle Scott is in the background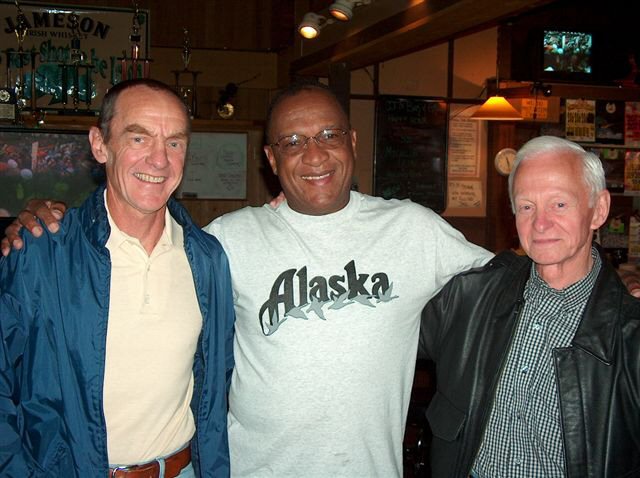 Lowell Doehle, Jerry Johnson, & Bob Alexander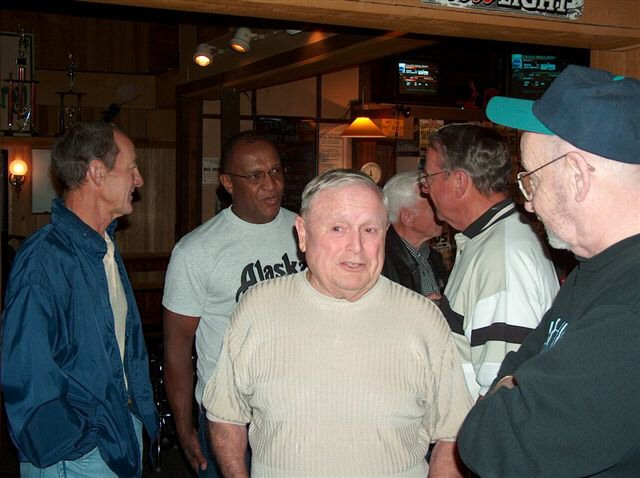 Billy Hawks talking to Lyle Scott; Lowell Doehle, Jerry Johnson & Roy Keehnel are talking in the background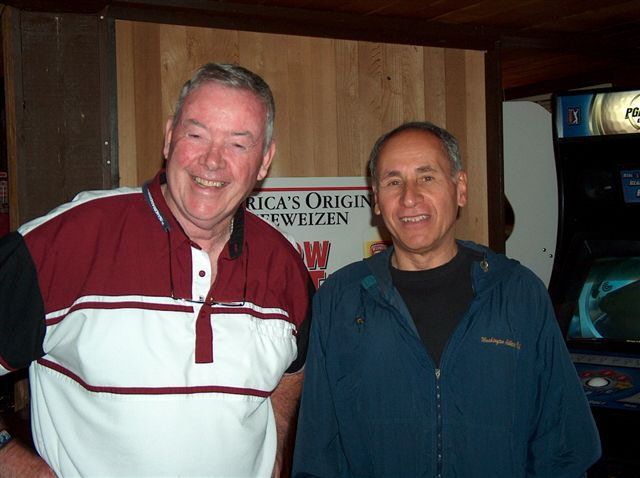 Joe Conner & Arnald Guadalupe
Lowell Doehle, Ed Beckman & Arnald Guadalupe
---
From Patricia Faux:

It was hard to tell who was having more fun... the honorees or the guests! Guests started arriving on Thursday, September 4th for the gala 70th party for Frank Jones, Jim Partridge and Bob Smith. What started as a small get-together for their 50th in Redondo Beach, CA, has blossomed to a planned and eagerly-awaited party every five years. Previous parties have taken place in Yelm, WA and Las Vegas, NV. This party brought out about 45 ex-FAAers and friends and family of the birthday boys.

Jim Partridge, Frank Jones and Bob Smith. In the back on the left is Linda Murray and on the right is Pat Faux
---
Attendees came from Nebraska (Curt Alms), Alaska (the Burdettes), Nevada (Don and Doris Roberts/Linda Murray) Washington State (the Kellys), California (Aleta Lee/Henshaws/Gibsons/Pat Faux/Suppans/Kitty Kuhlmann, Oregon (Jack and Cheri Meade) and from "All Points" (Marty McGrath).

The weekend was highlighted by lotsa golf, a stern wheel trip on the Willamette River, a Sunday brunch at the Eola Valley Winery, and capped off with a great party at the home of Bob and Irene Smith. It involved copious amounts of food/liquid refreshment/music and much reminiscing.

Overall, it was a great weekend to see many old (correction: long-time) friends and begin planning for the next celebration which will be held in Las Vegas. We may even move it up to an "every third year" celebration. Knowing how Bob, Frank and Jim like to socialize, it's a real possibility.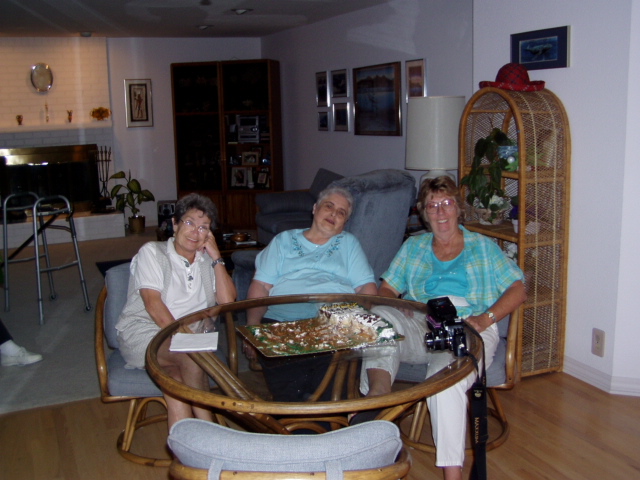 Hard working wives of the Birthday Boys. Jackie Jones, Irene Smith, Eileen Partridge.

On the Willamette. Bob Smith, Irene Smith, Pat Gibson and Gerry "hoot" Gibson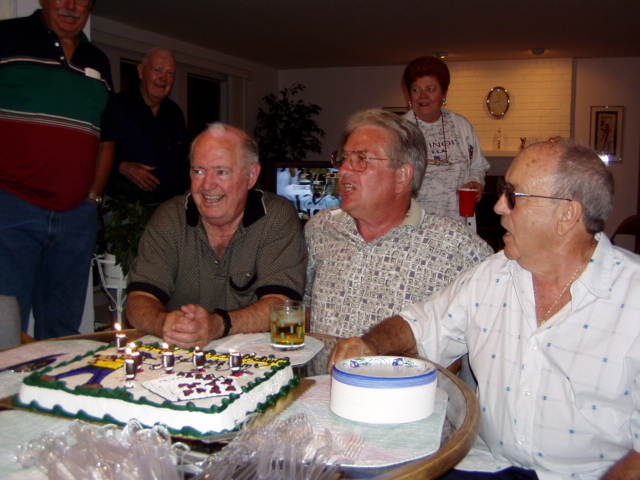 Ready to cut the cake. Jim, Frank and Bob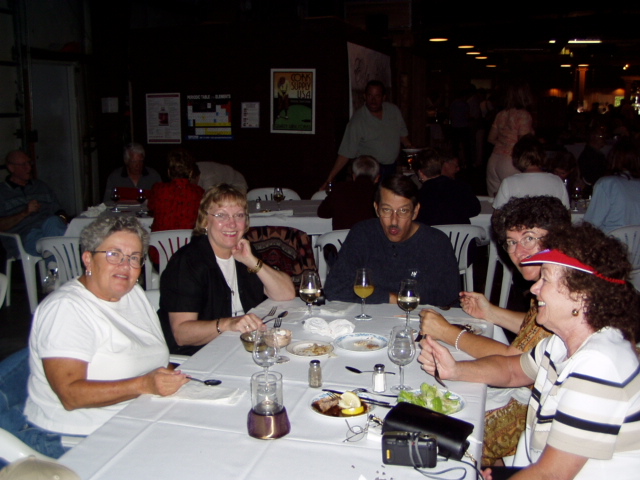 Winery brunch. Pat Faux, Jacque Burdette, Ken Burdette, Mary McGrath and Kathy Suppan

On the Willamette. Linda Murray, Shirley Henshaw,Jim Partridge,Bill Henshaw, Kitty Kuhlman and Cheri Meade

Gang getting ready to board paddle wheeler for lunch on the Willamette river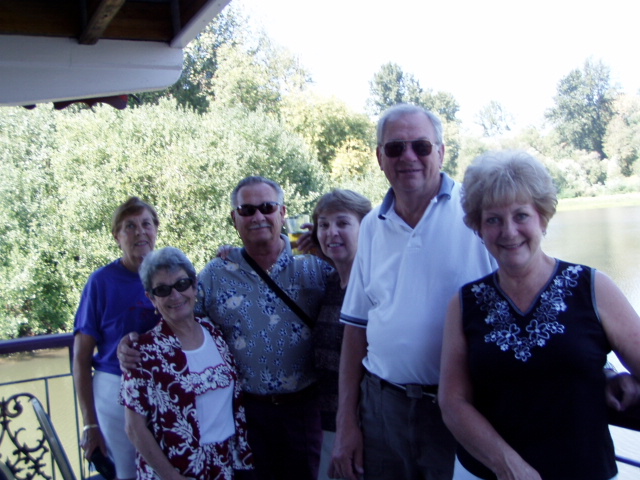 On the Willamette. Doris Roberts, Jackie Jones, Fred and Judy Kelly, Curt and Caroline Aalms
---