---
ZLA Quarterly Retirees Luncheon
Credits to Pat Faux #3483
Not in the picture below also attending the ZLA Quarterly Retirees' luncheon were Dennis Mayer, Jim Buckles, Debbie Pascascio (not retired) and photographer, Harry Burke. All ex-ZLAers are invited to join us on the 3rd Tuesday of March, June, September and December at 11:30 for our fun get-togethers at Foxy's Landing, WJF Administration Bldg., 4555 West Avenue G., Lancaster, CA.
Seated: Bill Jennings, Dean Martin and Bruce Hickert.
Standing: Mac Havens, Mickey Burns, Frank Arcidiacono, Cyd Chapman, Ray Nelligan, Pat Faux, Brandi Zuccaro (our great server at Foxy's Landing), Jerry Stone, Don Allen, Lou Spencer, Skip Otis, Fred Dalton, Jake Garland and Joe Nyderek.
---
North American F-82 Twin Mustang


Credits Jacque Burdette #3364
Everyone knows this one: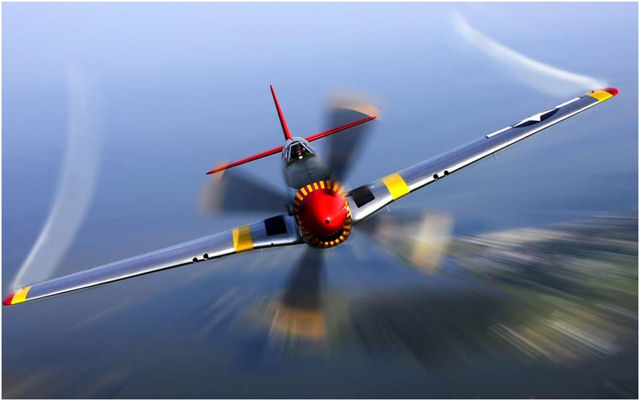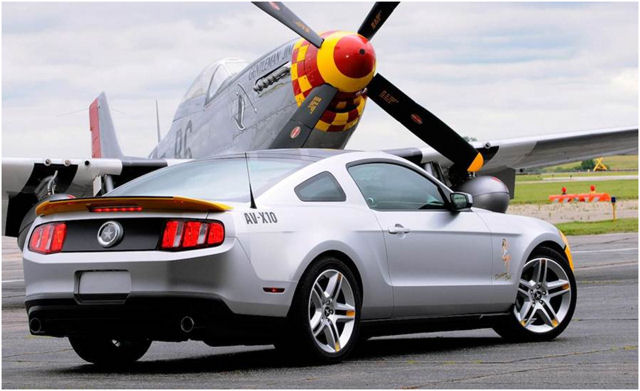 But how 'bout this one?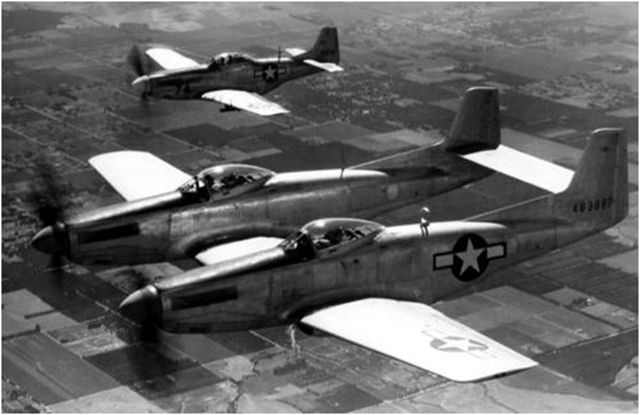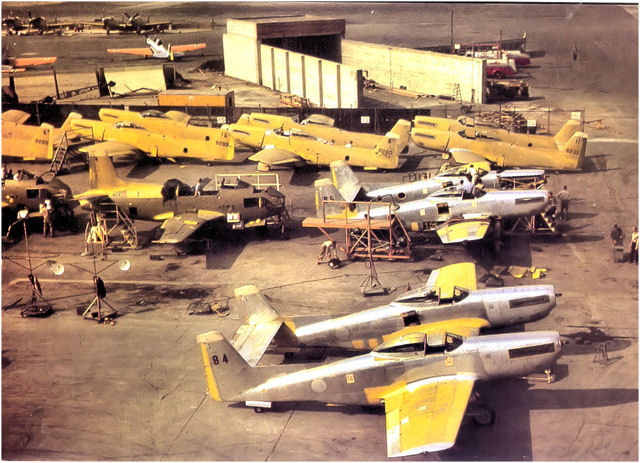 The North American F-82 Twin Mustang was the last American piston-engine fighter ordered into production by the United States Air Force. Based on the P-51 Mustang, the F-82 was originally designed as a long-range escort fighter in World War II; however, the war ended well before the first production units were operational.

In the postwar era, Strategic Air Command used the planes as a long-range escort fighter. Radar-equipped F-82s were used extensively by the Air Defense Command as replacements for the Northrop P-61 Black Widow as all-weather day/night interceptors. During the Korean War, Japan-based F-82s were among the first USAF aircraft to operate over Korea. The first three North Korean aircraft destroyed by U.S. forces were shot down by F-82s, the first being a North-Korean Yak-11 downed over Gimpo Airfield by the USAF 68th Fighter Squadron.
---
History Photos
Credits to Irv Vodovoz #3705
Hi, here are a few photos from the past that may be of interest to the members.
Kathryn and I moved to Grants Pass, OR 10 years ago and we are enjoying small town life. My daughter Jocelyn and her family also live here. My other daughter still lives in Los Angeles and we see them often. We have two grandsons ages 21 and 11.

My email address is: irv@q.com and I can be reached at (541) 441-6988.
We welcome hearing from those who know and remember us. Lets catch up.
FAA EXECUTIVE SCHOOL CLASS 58
OCTOBER 31-NOVEMBER 11, 1977
FRONT ROW: Clyde De Hart, Hal Morrill, T. J. Johnson, Don Estes, Don White, Larry Aurbach, Skip Wilson, Ed Rancourt, Keith Christenson
MIDDLE ROW: John Slover, Bill Redeen, Jim Parker, Polly Bryan, Nobby Owens, Don Cass, Don Beswick, Bob Oliver , Jerry Dallas
BACK ROW: Vic Onachilla , Bob Smith, Byron Mabee, Jim Chaloupka, Irv Vodovoz,
Dick Lackey, Lane Taylor, Mike Sarli, Harland Goertz, Don Wilcox
---
Memories and History From Sylvia R. Meagher
Sylvia R. Meagher #99 (yes, that is ninety nine)
Sylvia's Notes in PDF format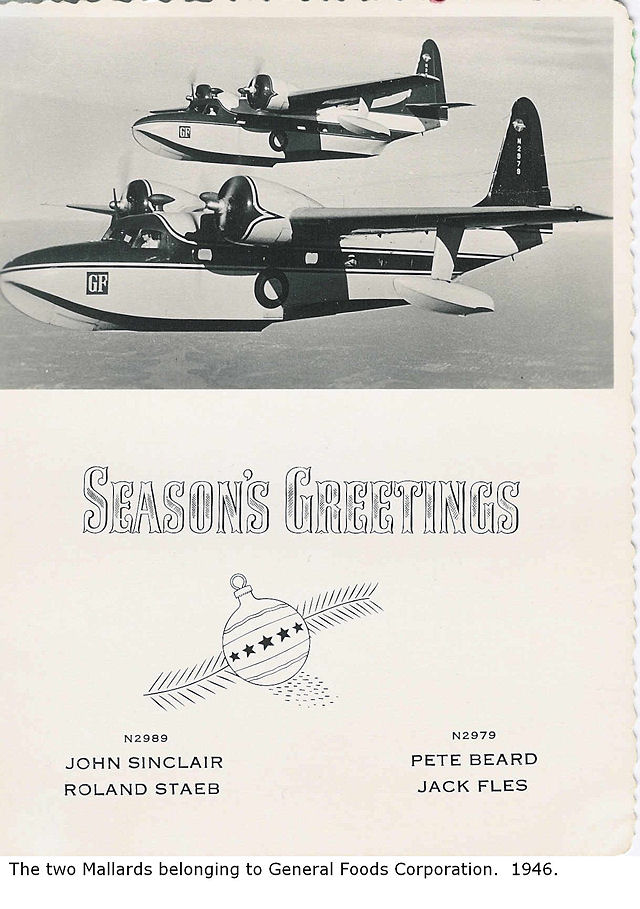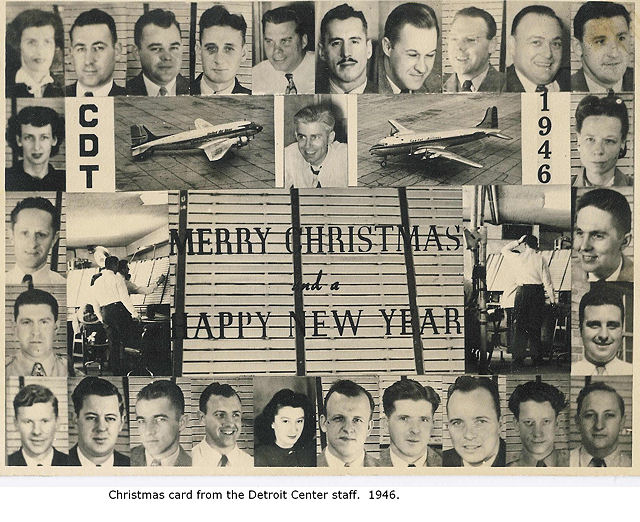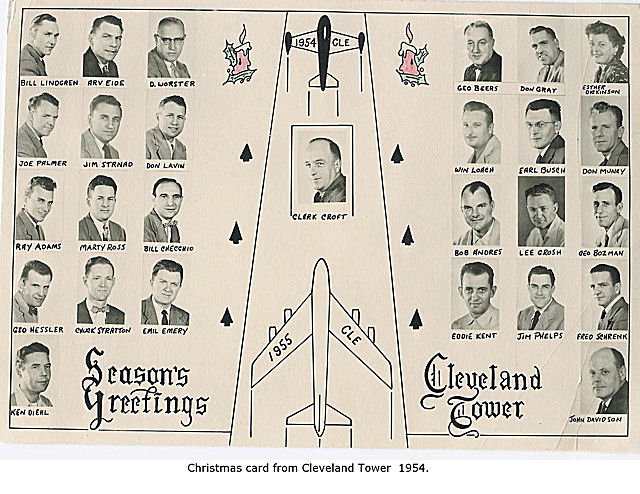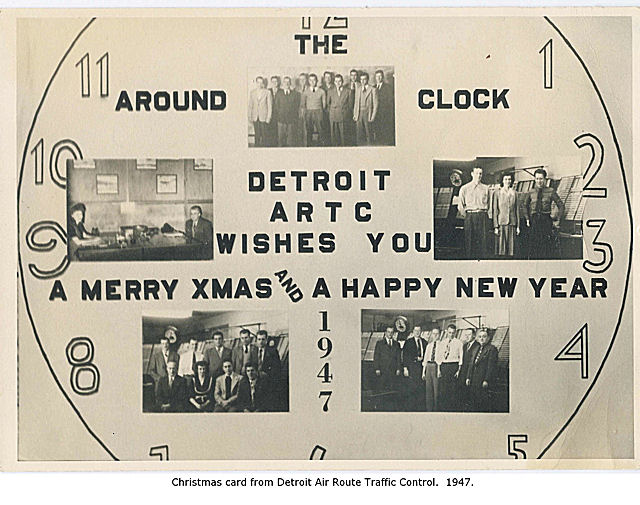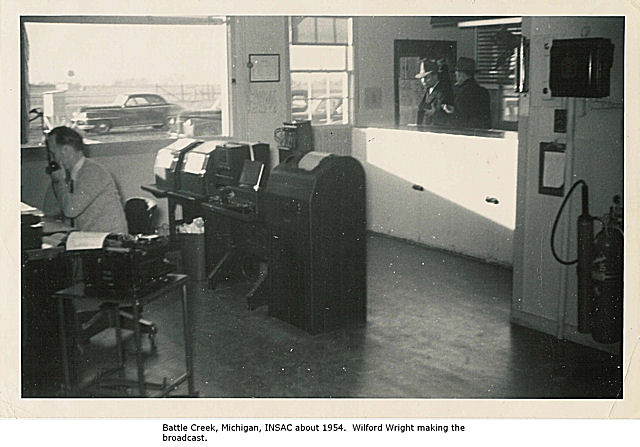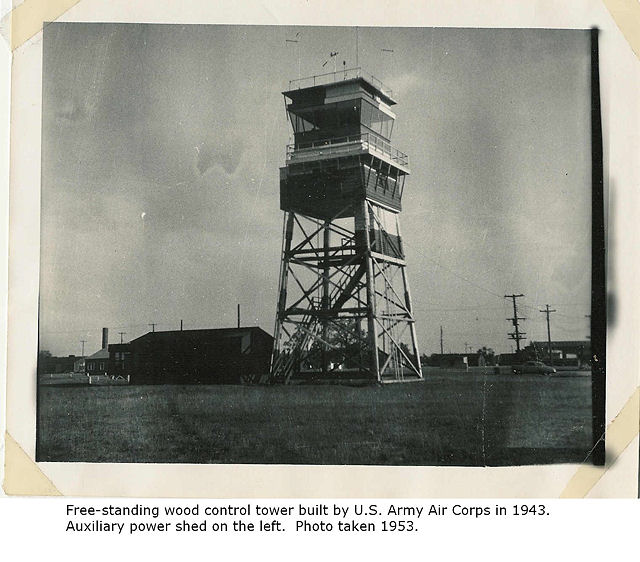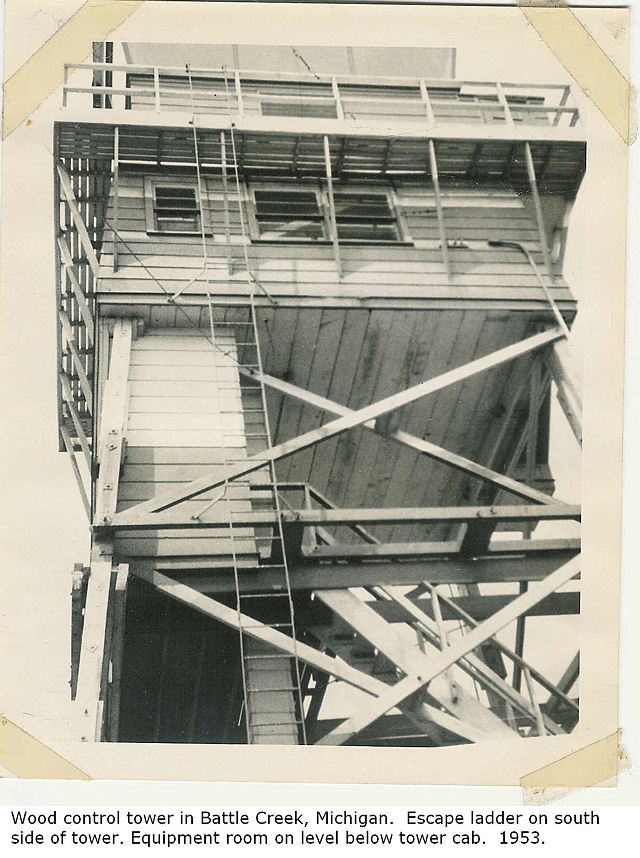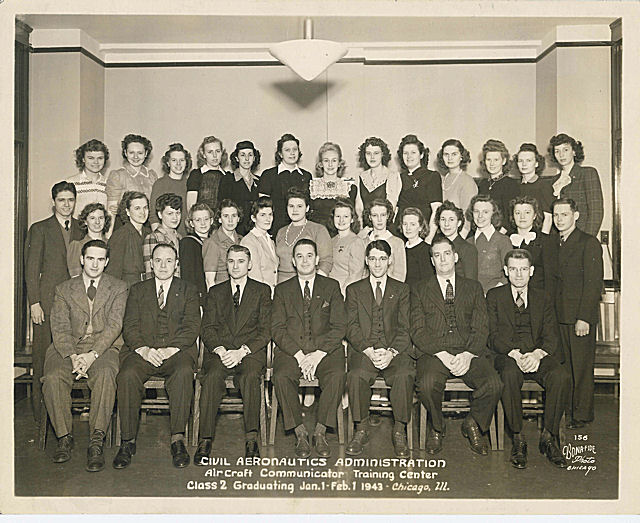 Civil Aeronautics Administration
Aircraft Communicator Training Center
Class 2 Graduating Jan. 1 - Feb. 1 1943 - Chicago, Ill.

Back row, left to right:
Name Home town CAA Assignment
1. Alma Rathseck Duluth MN Archbold OH
2. Joyce K. Boardson Gladstone MI Evansville IN
3, Juanita Holmbert Gladstone MI Gladwin MI
4. Sylvia Rorvig Madelia MN Battle Creek MI
5. Doris Baumgartner Chicago IL Morse IL
6. Beulah Gilbertson St.Peter MN Madison WI
7. Lillian Christensen Luverne ND Grand Forks ND
8. Frances Jylen Minot ND Cambridge OH
9. Joyce Tabaka Minneapolis MN Grand Rapids MI
10. Phyllis Collins Duluth MN Jamestown ND
11. Ardeth Strand Minot ND Dickinson ND
12. Mary Louise Carbon Clinton IN Vickery OH
13. Carol Cahn Chicago IL
Center row:
14. Lee K. Jacks Little Rock AR Blueprint Dept.
15. Marjorie Drill St.Paul MN
16. Kathleen E. Doyle Pembina ND Cherry Fork OH
17. Evelyne Tannenbaum Chicago IL Madison WI
18. Thelma Fisher New Philadelphia OH Clerical Dept.
19. Alice Siggelko Madison WI Perry OH
20. Phyllis McGuire Dancy WI Flint MI
21. Ida J. Oppenheimer Peoria IL Morse IL
22. Carolyn J. Bergstrom Minneapolis MN Cadillac MI
23. May K. Guenther Jackson MI
24. Ruth E. Robinson Wabash IN Findlay OH
25. Marion Roberge Eau Claire WI Flint MI
26. Bernice Klobe Young America MN Lone Rock WI
27. Adele Stange Chicago IL Cherry Fork OH
28. Keith Scott Arthur ND Golva ND
Front row:
29. Robert A. Holt Lafayette IN Golva ND
Larry Brown Instructor
Culver Gorsuch Administrative Staff
? Administrative Staff
Hugo Boyle Administrative Staff
Garrison Arey Instructor
Howard Simmons Weather Instructor
Not pictured:
30. Margaret Barry Pembina ND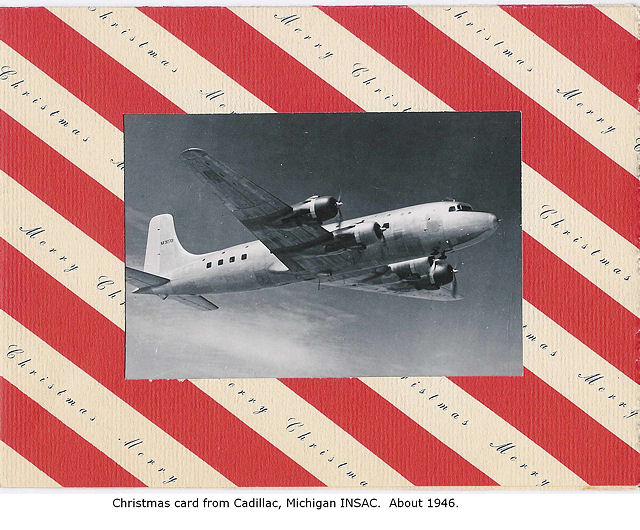 ---
On Tour of USS Yorktown
Al and Marlene Benson on the tour of Charleston, S.C. and the USS Yorktown. This picture was taken of us on the ship.
---
2014 Paul McAfee Award Presentation
James Holtsclaw #2738

Frank Frisbie and Jim Holtsclaw



Frank and Betty Frisbie



Frank and Warren Lichtenberg



Kathy Harris, Terry Smith, Betty Frisbie, Frank
Frisbie, Suzy Fritz, Patty Simpson, Frank Frisbie III



Back row: Betty Frisbie, Andrew Smith, TJ Harris
Center row: Kelly Harris, Tom Harris, Shannon Simpson, Sam Harris holding Annie Frisbie, Frank Frisbie
Front row: Maggie Fritz, Davie Fritz, Frankie Frisbie IV
Other grandchildren not present: Ben Simpson, Jon Simpson, Joe Harris, Meagan (Smith) Clark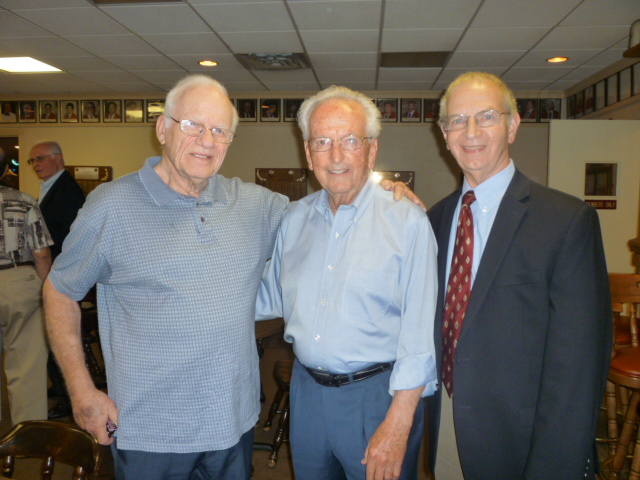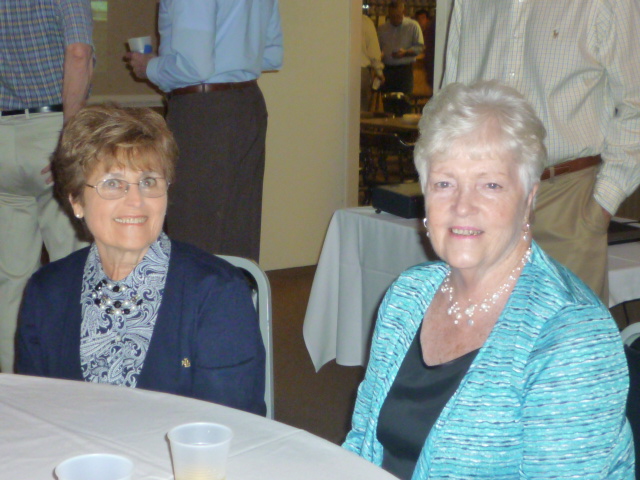 ---
90th Birthday Celebration
Bob Goldman #2264
Taken during the celebration of my 90th birthday. Pictured are myself and my wife Nora in front. My grandchildren in the back row pictured from left to right are Jacob, Avi, Jamie, Natanielle and Emma.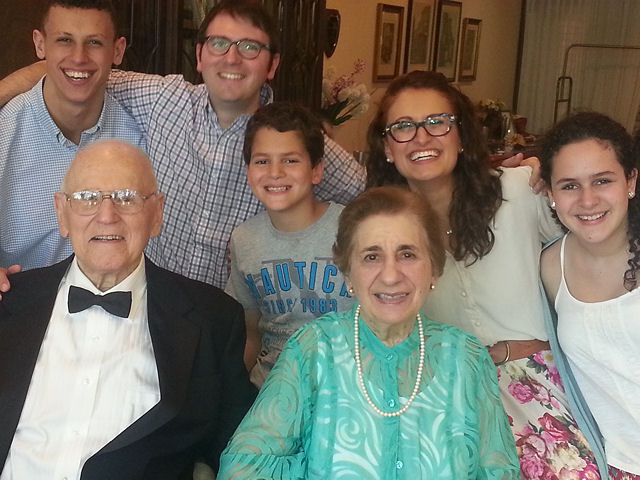 ---
DTW/SOAP Annual Reunion
Jim Holtsclaw
June 25th and 26th were the dates of the 10th Annual DTW/SOAP Reunion (the first 6 years were held in Orlando, Florida). Everyone enjoyed this Brighton, Michigan location, which will be the site of the 2015 location. Two days of war stories and lies pervaded the conference room at the Marriott Courtyard Hotel, concluding with a dinner the second evening. Following the dinner, Brian Newsom and Bob Ervin #3517 provided the group with great banjo and guitar music.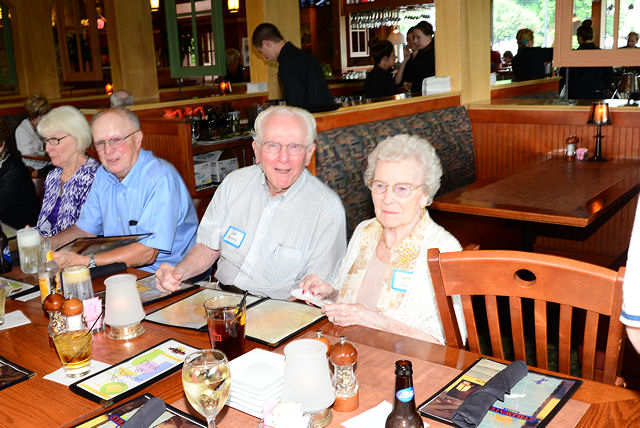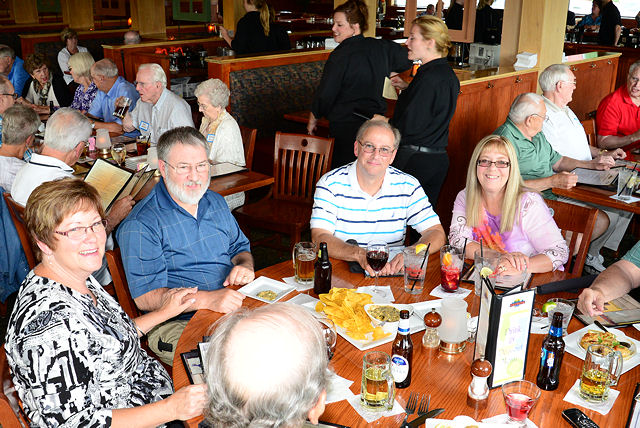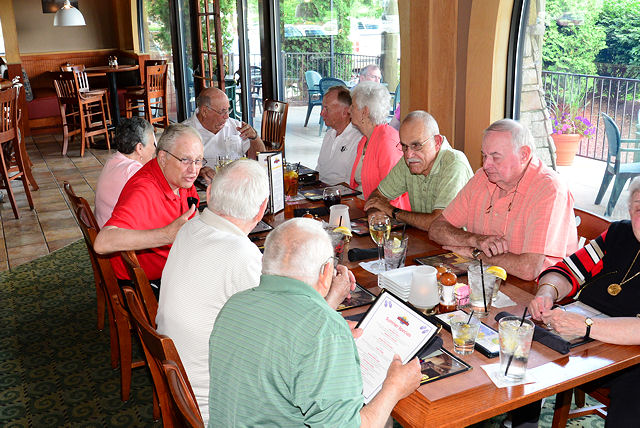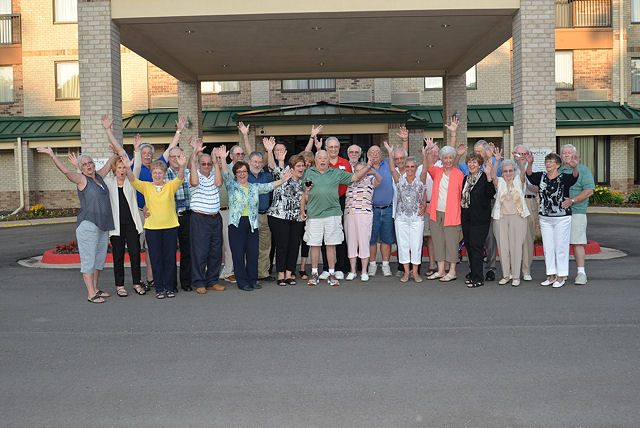 ---
50th Anniversary of Leesburg (ZDC) ARTCC


Credit to Al Benson #2290

I received these pictures from Ken Peppard #3574. I believe it was said, there were a total of 365 people at the 50th anniversary. The picture of the group of 33 people that were at the center in 1963, was especially nice. It was nice seeing everyone , plus the tour of the center. Bob Desmond mentioned how nice the personnel in the center treated the people on tour. I would agree with Bob on that impression. I retired 30 years ago from the center and the change within the center was amazing. I also couldn't believe the change in Leesburg itself. The traffic; wow.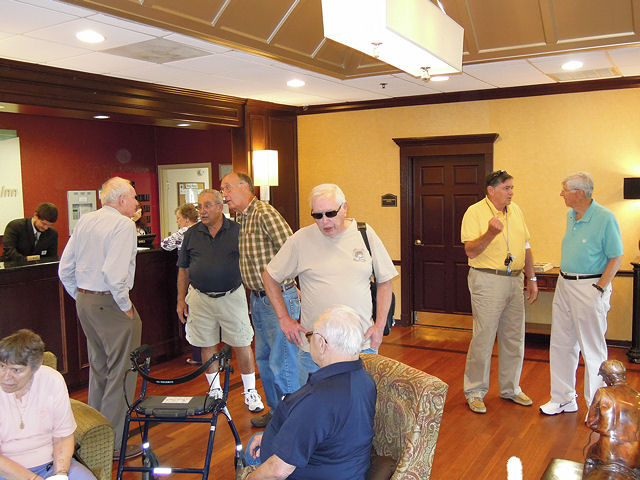 Sue & Joe Haubenstein, Paul Petersen, Sam Mancari, Tom Pesnicak, John Dwyer, Dennis Callaghan, Al Benson (taken in the lobby ... Marlene can be seen in the background at the front desk)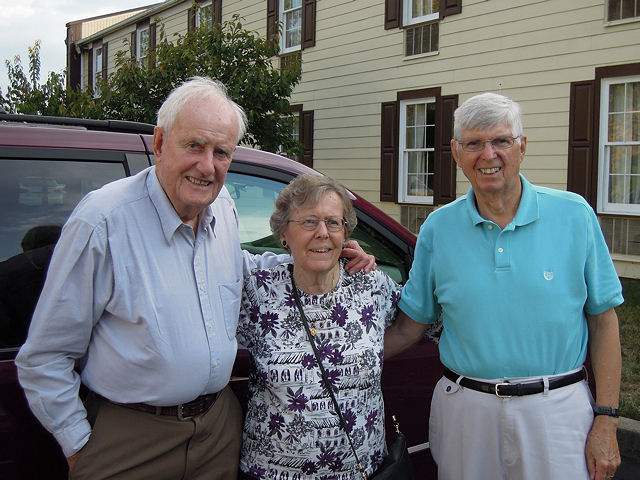 Paul Petersen, Marlene & Al Benson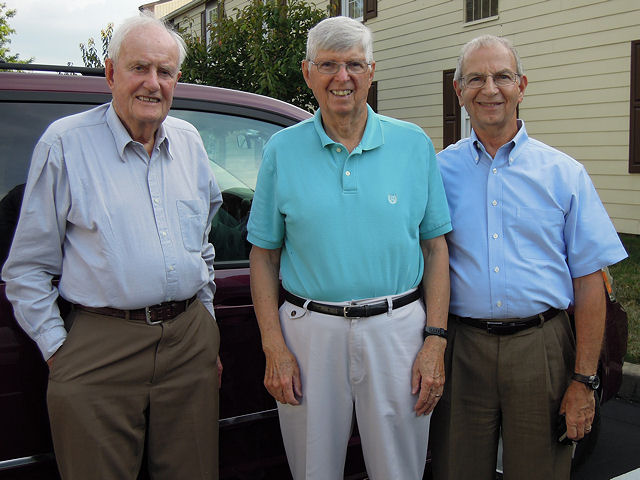 Paul Petersen, Al Benson, Ken Peppard
ZDC 50th Anniversary original 1963 Leesburg staffers