---
Roger McDonald #2649
Inspecting one of the FAA's finest fleet members.
Roger is 81 years young and began his aviation career in 1948 flying for the USAF.

Contributed by Ken Peppard #3574


---
South American Adventures
Don Tyson #3495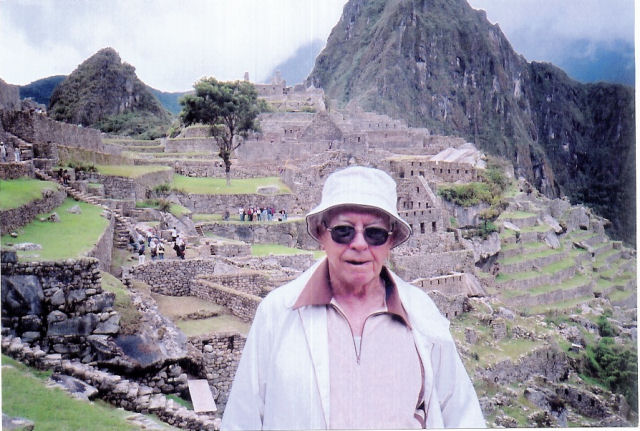 Don at a 2005 reunion for employees of Panagra,
visiting the ruins of Machu Picchu.

Don in February 2006 after a six day cruise on the Amazon
River posing with 16' Anaconda in the town of Leticia Brasil.
---
The semi-annual Los Angles Area Retirees Luncheon on January 11, 2006 was very well attended. It was held at the Hacienda Hotel in El Segundo California.
---
Paul McAfee Award Presentation for 2006

The 2006 Paul McAfee Award

Mrs. George Harvey, Ken Krohn #3406 & Paul McAfee #2843

Award Presentation - Jim Holtsclaw #2738 and Lynn Hink #2100

Ken Krohn #3406, Paul McAfee #2843, Red Turner #3420,
Jim Holtsclaw #2738, Lynn Hink #2100 & Marion Davis #3445

Jim Holtsclaw #2738, Paul McAfee #2743, Pat Faux #3483 & Lynn Hink #2100

Lynn Hink #2100 and Red Turner #3420

Lynn Hink and Family
---
Jean & Paul Petersen, #2310
I know there are many Airway Pioneer members who have worked with Paul and would enjoy seeing pictures of Jean & Paul. Paul started his career in Washington ARTCC and from there was deputy at Andrews AFB, then at HQ Washington D. C., Belgium, Denver R.O. and then retirement.
Marlene and I have a mobile home in the St. Pete area and usually are there from December to May. Paul and Jean usually come to Florida in February to visit their daughter Barbara in Tallahassee. They came and spent a week with us in St. Pete.
Al Benson #2290


Paul and Jean dancing at our Valentine dance

Jean and Paul

Jean & Marlene

Marlene and Al

Paul and Al
---
While Carol and I were touring Florida this past winter we ran into some Society Members.

Dinner in Daytona Beach, Ann & Ed Malo about to spring for dinner

Lonnie Parrish, George Robertson and Jim Holtsclaw

Jim and Carol Holtsclaw

Odette and Lonnie Parrish

Lunch at Port Salerno, Florida
Kathy & Larry Suppan, Carol & Jim Holtsclaw, Rickie & Stu Hayter

Larry & Kathy Suppan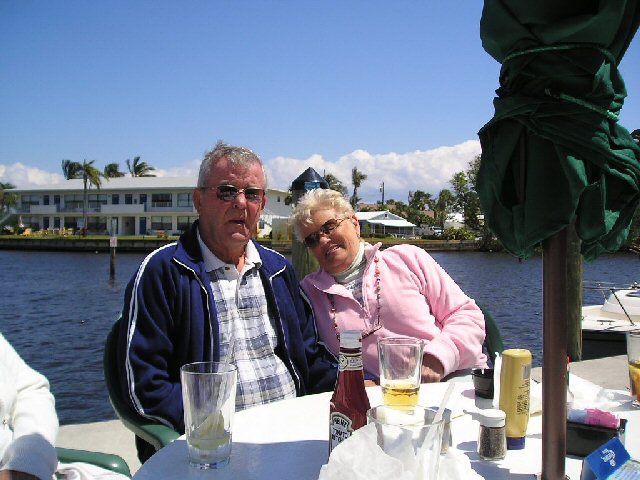 Stu and Rickie Hayter

Rickie Hayter and Jim Holtsclaw
---
Memorial Service for Ed Gomez , 4/19/06

Ed Gomez at a much younger age. It tells a great story about Ed's personality.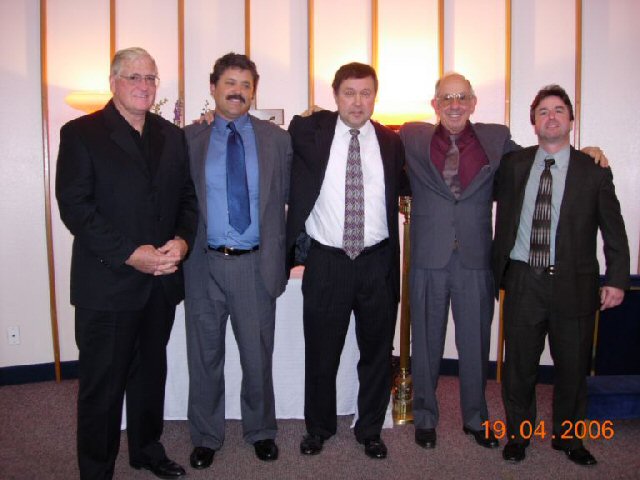 Jim Turner #3420, Carl and Mark Gomez (Ed's sons) Bob Kelm #3491 and Bob's nephew
at the Memorial Service.

---
Pilots Hone Their Skills For Upcoming Airshow Season
Photography by Frans Dely www.Aviationdimension.com
Credits to Jim Brown #3220
Early morning anglers are treated to the spectacle of four T6 Harvard Aircraft from The Flying Lions Aerobatic Team water skiing across the Klipdrift Dam near Johannesburg South Africa.
Lead by Scully Levin, with wingman Arnie Meneghelli, Stewart Lithgow and Ellis Levin, this renown airshow display team rehearse a sequence for the newly launched "Aviation Action" television program on Supersport. Arnie Meneghelli from Academy Brushware, owner of the aircraft had this to say, "What we did today I believe is a world first. It illustrates that South African airshow pilots are amongst the best in the world".
This unusual act, approved by the South African Civil Aviation Authority (CAA), and supported by Castrol Aviation, was meticulously planned and took place under the watchfull eye of divers and paramedics that were on site.
---
Jim and Dooreen Brown #3220
Celebrating our anniversary at the Halekulani Hotel in Waikiki. Exact date January 21. This is the House Without A Key restaurant, where we ate fifty years before the night of this picture. The singers did the Hawaiian 'Wedding Song for us and someone sent us this champagne, it was a memorable evening. The rest of the trip was also memorable, outside of our four weeks in Australia, this was probably the best vacation we have ever had. But hey, we earned it!
---
Bob Ervin, Musician at Ceilidh
A couple months ago, the St. Andrews Society of Detroit decided to sponsor a Ceilidh (Scottish) Band and put out a call for volunteers. Bob Ervin (Society Treasurer - on the left in all three pictures) was among the six who came forward for a first meeting January 9. The problem was four of these people played guitar. Bob switched to banjo and another fellow switched to bass. After only three rehearsals, playing music that they had never heard a month before, they made their first public appearance on Feb.7 at a regular meeting of the St. Andrews Society. For a first effort it must have gone rather well as they were invited back. When asked about music as a hobby Bob, who has been playing over sixty years, says that "it exercises your brain, hands and eyes. Beside that, it's cheaper than golf and you can do it at night!"

---
Retirees from MSP tower gathered for lunch at Anoka County
Airport/Janes Field on July 15th, 2005
Attendees included Marty Coddington, Nick Conom, Wally Danielson, Dick Golpin, Bill Gunther, Milt Nordmeyer, Glen Nygard, Dan Tourville, Pete Wagoner, and Mike Zaske. The B17 and B24 arrived in the afternoon and were caught by the camera of Marty Coddington
---