When we lost Linda Lou back in October 2014 we found it hard to put something down on paper to share with the Airway Pioneer readers. We were experiencing a tremendous loss and it was hard to deal with the reality of letting go and actually trying to write something up about Linda. But, now that time has passed and we have come to peace with our loss, we wanted to honor her with this remembrance.

Linda Lou came to the FAA Western Regional Office back in the very early 1970's and worked in Logistics. She immediately endeared herself to her fellow workers and then took on the task of being secretary of the bowling league where she could meet everyone. She had such a sparkling personality and had a way of persuading people to sign up to bowl on the league and to come out and have "fun" and meet other FAA people. Linda was always about people and fun!

When I (Ruby) came to work for the FAA back in 1971, Linda found out I was a bowler and next thing I knew I was signed up on a team and Linda became one of my forever friends. Over the years we worked together, shared coffee breaks together, laughed together, cried together, vacationed together and raised our children together and we "always" had fun together. Linda was even instrumental in me meeting Dave Ross, the man I have been married to for the past 41 years. She also got him to join that FAA bowling league! Actually, quite a few people ended up meeting and eventually marrying as a result of Linda's parties and events including Eileen and Jim Partridge.

Eileen was a bowler on the league and knew Linda before I did. They also became forever friends. It was like Linda had magic powers with her smiles and maneuvers and knew how to bring people together and all of them ended up loving Linda and each other. Some of the bowlers back so many years ago (besides myself and Dave, Eileen and Jim Partridge and Linda and Bill Murray) were: Bev and Jim Panter, Doris and Don Roberts, Frank and Jackie Jones, Bob Smith, Bob and Cathy Kivitt, Nina Nance, Mickey Martinez, Joan Fletcher, Mary Andrews, Frank Cardone, Marie George, Larry Suppan, Max Hackett, Bonny Taylor, Jack Frazier, Al Reidel, Lynn Davis, Erwin Buschauer, Jim Turner, Ken Krohn, Barbara Norris (now Lewis). Cheri Tucker who married Jack Meade, Marlene Wolgat, Paul Collander, Betty Marshal (now Nolan), Shirley and Bill Henshaw (or Shirley T as she used to be called), Nick Boyiazis, Terry Ralph, and so many more that probably should be mentioned. Linda Lou (Bowman) even met her husband Bill Murray thru bowling. He was an over 40 confirmed bachelor who always said he would get married when the Pope got married. I will never forget when he pulled me aside one evening at our house when they came over for dinner and he said "Ruby, I heard some great news today that the Pope is getting married!" He became a great father to her boys and the rest is history!

Those that did not bowl would sometimes come for one of our gatherings after work (one of the fun hangouts was Chappy's) and our circle of friends just kept expanding. Eileen and I both often talk about how lucky we are to have so many wonderful, close friendships that have lasted all these years. It was probably Linda's magic spell that she seemed to cast upon people that made them want to join her and meet others and develop all those lasting friendships.

After Linda and Bill retired from the FAA, Linda came back and worked the Civilair desk and continued her party planning. We called her Ms. Civilair or the Social Director for the FAA Western Region. In her many years associated with the FAA, she put together Las Vegas bus trips, evenings out to live plays in LA and Orange County, events at the race tracks (Linda sure love the horses!) and even put some cruises together at great prices. Linda put together a very memorable train trip to Las Vegas. I was amazed at how many people signed up for that very crazy, wonderful trip that seemed to take forever to go from Los Angeles to Las Vegas. I never knew there were so many stops between those two places! Even though that was a "long" trip, I cannot even begin to describe how much fun we had. Linda kept us all entertained by her kazoo playing, her singing and making us sing, her jokes and that great laugh of hers! Any of you out there reading this that went on that trip, I know you are smiling and thinking "Linda sure knew how to put a party together and make us laugh and have fun!"
Linda and Bill left the Western Region once for a few years (sad ones for us) and went to work in Washington, DC. Linda worked at Washington National Airport and Bill in Headquarters. Of course she signed up for bowling there, met everyone and signed up for all the Redskin games and bus trips to the out of town games. To Linda life was a party – life was to be lived to the fullest and she did not want to miss a thing!

When Linda found out she had cancer, she did not like what the doctor had to say because he was too negative. She told him she wanted treatments because she had to get better and make it to her 80th birthday. He gave her the wrong answer so she found another doctor with a better attitude that gave her hope. She ultimately lost the battle with cancer and died on October 15, 2014 at the age of 78. We were all devastated but she lives on in our memories and in our hearts and some of us are gathering in Carlsbad, CA in October this year to party for Linda and toast to her 80th birthday that she will be celebrating in heaven. Our plan is to gather at the Carlsbad Inn Beach Resort on Wednesday, October 26th. It will be an informal gathering in the afternoon around the area close to the pool and the restaurant on the premises (It's a plan in progress). We will look forward to seeing some of you there!

And, by the way, she made sure she had her friends together in the hospital for her last birthday. The hospital folks had never seen such a personality and she brought life and a party atmosphere to a very bleak situation. She even had her son bring her little brown mouse (inside joke) and many of her red hats to the hospital so she could give the hats away to the great nurses that took such good care of her. The little brown mouse now lives with me and makes me smile and think of Linda every time I glance up and see him sitting on my shelf. I will make sure I bring him along to celebrate in Carlsbad. Linda would like that!

Here are some fun pictures to share of our dear friend Linda Lou. We had hundreds to choose from and have shared some in the past with the Airway Pioneers readers.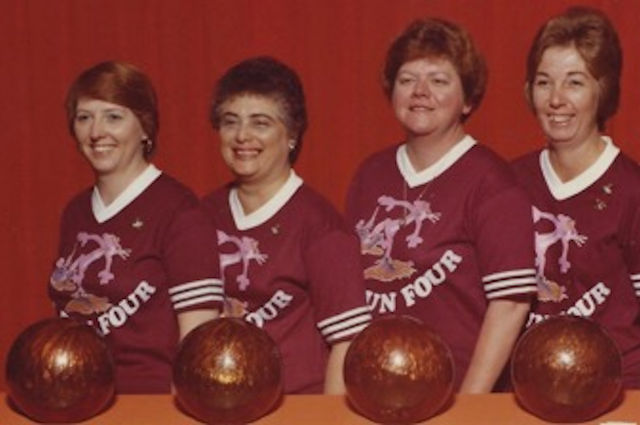 State Bowling Tournament in Sacramento 1980 (left to right – Ruby Ross, Irene Smith, Linda Murray and Eileen Partridge)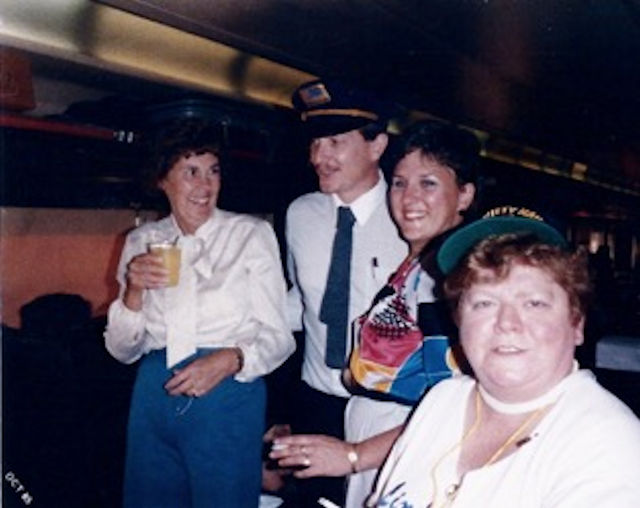 Train Trip to Las Vegas 1985 (left to right – Doris Roberts, Train Conductor, Cathy Beam Kivitt and Linda Murray)



Linda's Retirement Party left to right – Eileen Partridge, Linda Murray, Doris Roberts, Cheri Meade and Elly Brekke)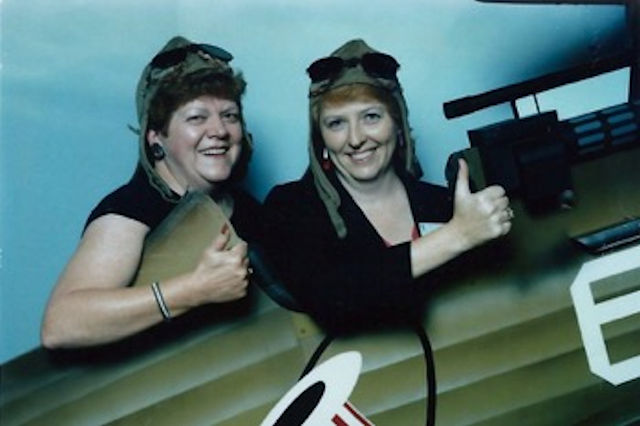 ATCA Convention in Anaheim, CA 1987 (Linda Murray on left and Ruby Ross on right)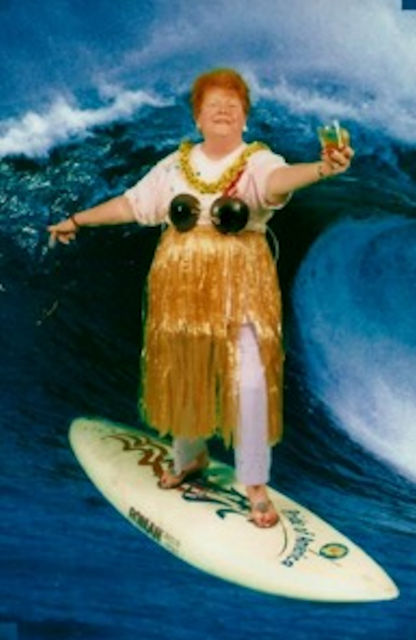 Linda Surfing Photo on Hawaiian Cruise with FAA Friends and Relatives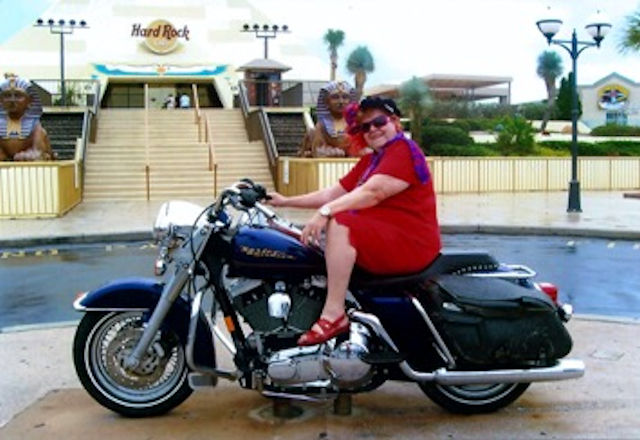 Linda on Motorcycle in Myrtle Beach with FAA Friends



Linda always having fun!



Trip to Branson in 2003 (Seated front is Jim Partridge and front row (left to right is Bev Panter, Linda Murray, Ruby Ross, Doris Roberts and Don Roberts and back row (left to right) is Jim Panter, Dave Ross and Eileen Partridge



Linda just floating thru life – always with a smile!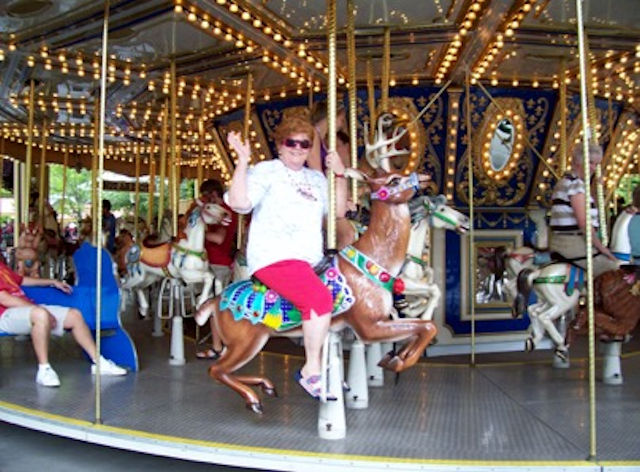 Linda on Merry-Go-Round having fun during a trip with FAA friends
---
Bob & Nora Goldman #2264 on their 65th Wedding Anniversary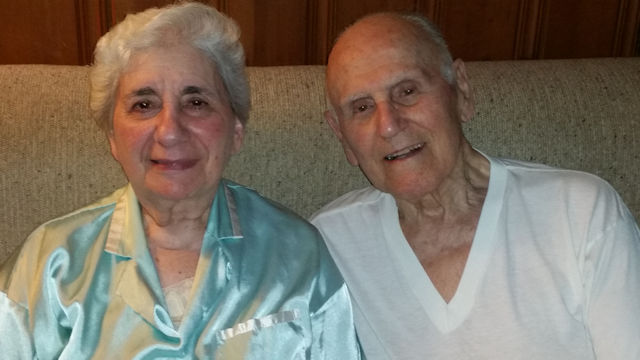 ---
FAA Retirees Luncheon 1/30/2016
Provided by John Clancy #3727
John asked to us to provide a link to the Retirees Luncheon.
You can view the pics here:
Click here
---
Jim Burgan's FAA Retirement Party 1/30/2016
in Las Vegas Nevada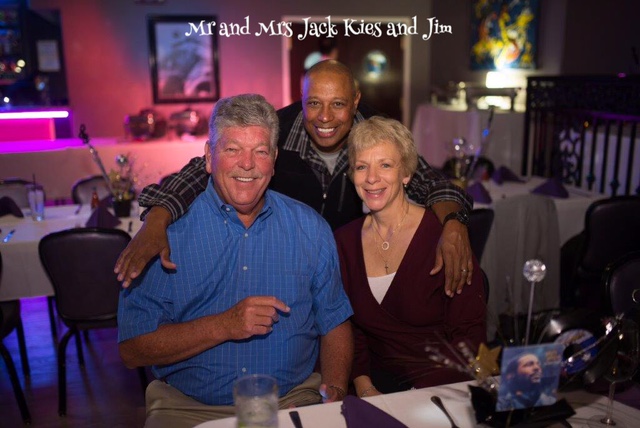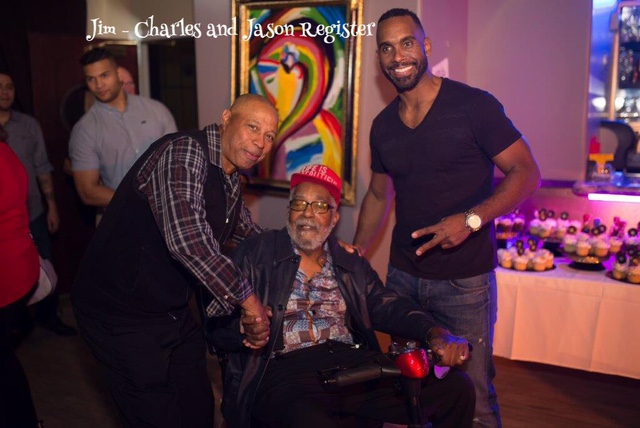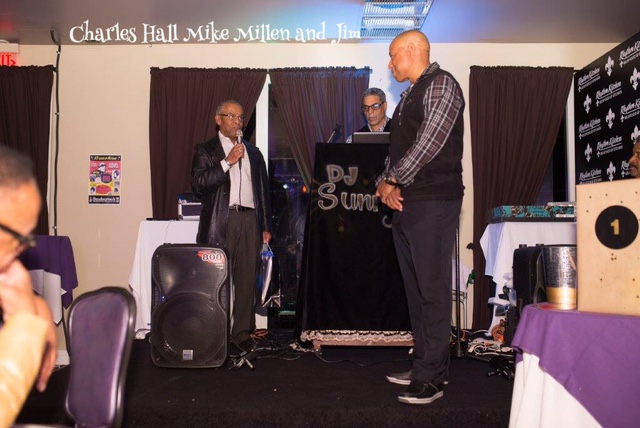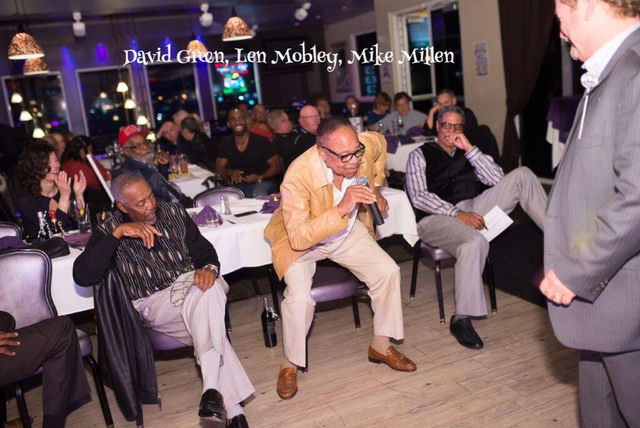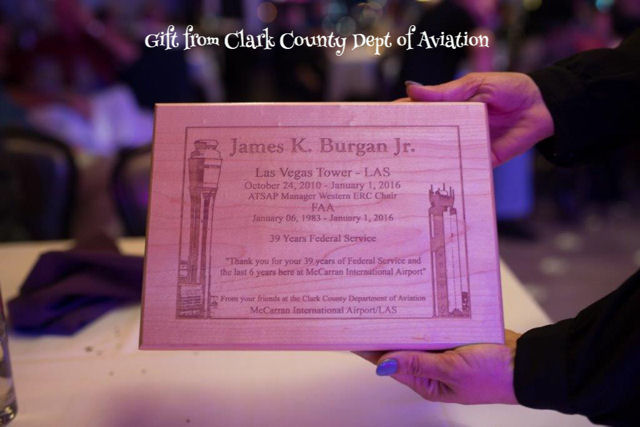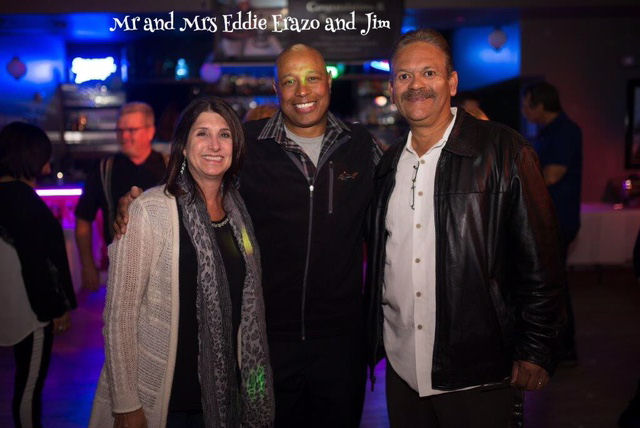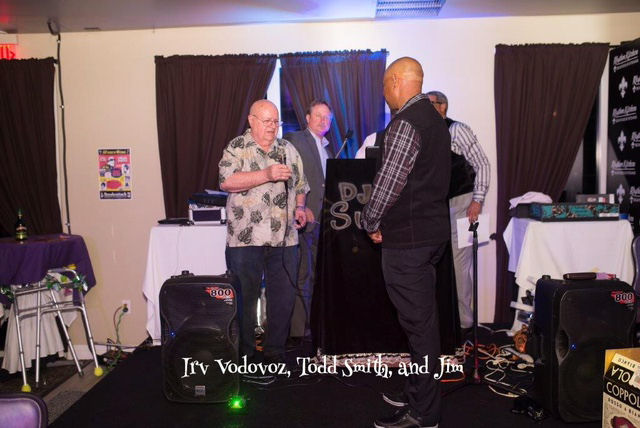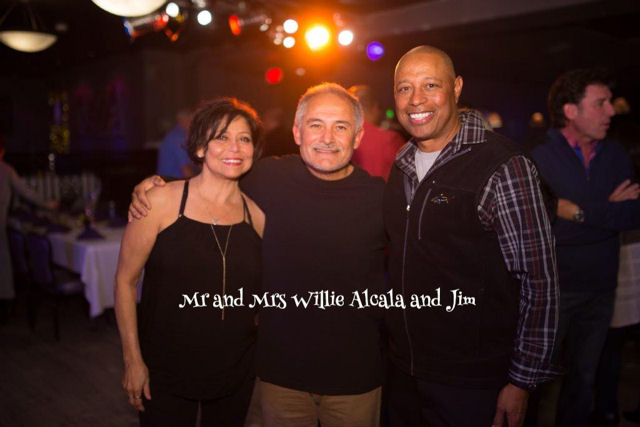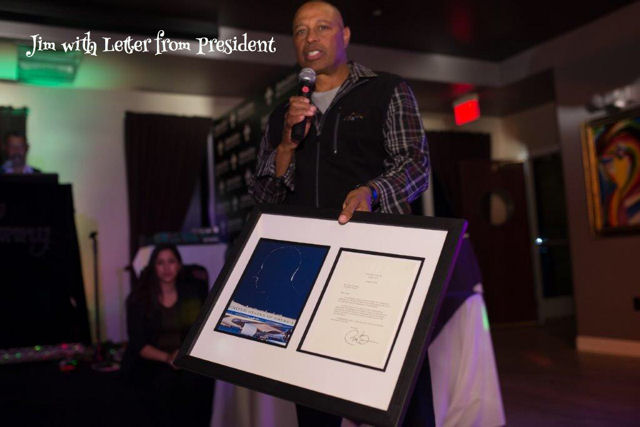 ---
Remembering Sabin (Bino) Barainca



Credits to Pat Faux #3483

An old friend and co-worker from Los Angeles Center, Sabin (Bino) Barainca, died recently after a long illness. He and his family wanted no services so a few of his friends and co-workers gathered at Gino's Italian Restaurant in Palmdale to celebrate his life with stories and memories of one of the good guys. We met in the Godfather Room and after a great lunch shared our remembrances of Bino. He was one of the original controllers who moved to Palmdale when the Center was moved from Manchester and Osage Avenues in Los Angeles. His career covered staff, supervisory and management positions, and he was one of the founding members of F.A.A.R.T. That is the Federal Aviation Racing Team that sponsored motorcycle rallies in the Antelope Valley and fondly remembered by any employee who took part.



Left to right: Brent Shively, Norm Winkle, Sue Shively, Dennis Mayer, Jim Hampton, Mac Havens, Pat Faux, Dean Martin and Jake Garland. Chris Mayer, Denny's wife, was the official photographer of this illustrious gathering.

---
DTW/SOAP Annual Reunion 2016


Held at the Marriott Hotel, Brighton, MI, June 21 - 23, 2016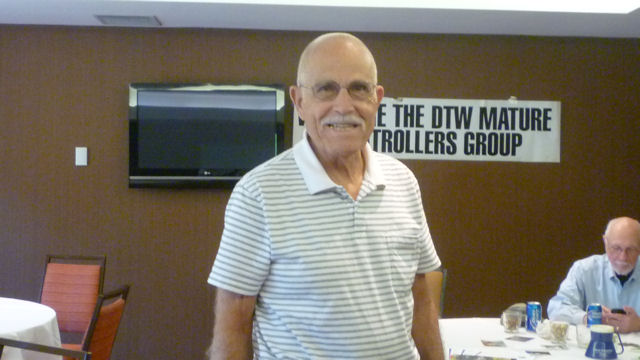 Ron Tuck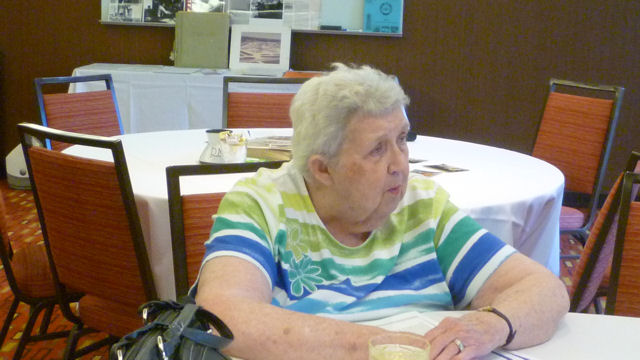 Connie Anderson

nn

Bob Ervin, Dave Brown, Russ Bracken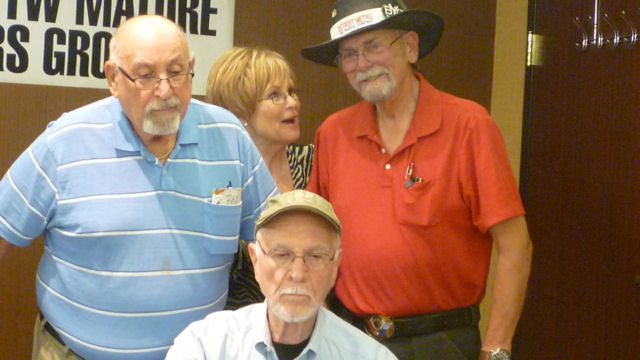 Roy Dal Lago, Debbie Ervin, Rick Dawson, Bob Ervin



Hank Anderson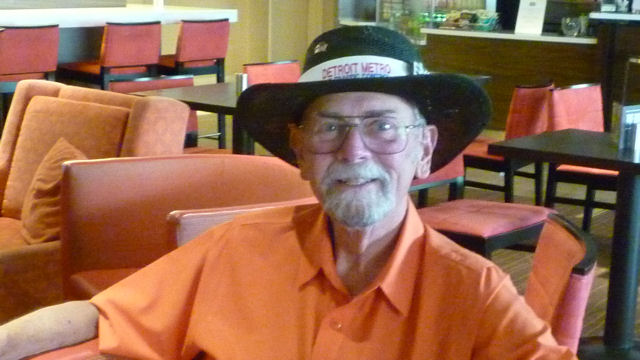 Rick Dawson



Don Moore, Walter Wasieliwski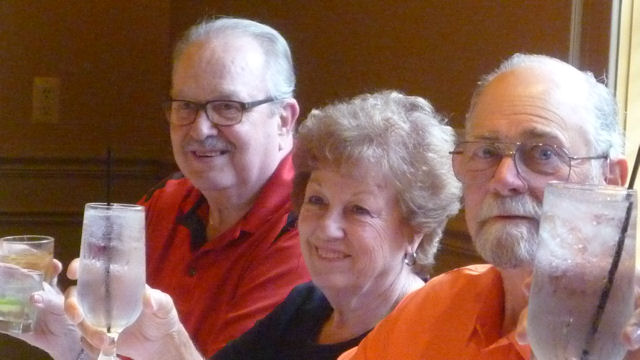 Russ, Dottie Bracken, Rick Dawson



Mel and Barb White, Don Moore



Jim Holtsclaw, Dick Wallerstedt



Bob Ervin, Brian Newsom (Music for the Evening)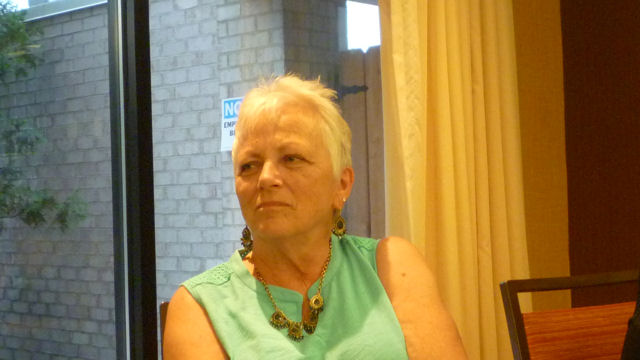 Mary Jane Dawson
---
I'm finally going to take the trip back to Minnesota this fall.

Roger Osgood #3555

I've been staying busy with family, wood turning, target shooting , and flying. It's an empty life without Kirsten, but I'm plugging along. Attached are a couple of photos of the Citabria I'm presently flying. It's "real" flying: stick & rudder ;-) Doing some glider flying too.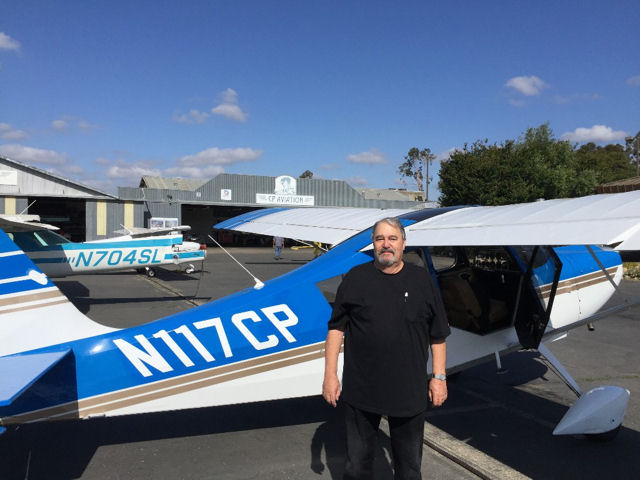 ---
Class Picture of the 1st Executive School in October 1959
Irv Mark #2662
Participants were from all Regions. I was Budget Officer before Executive Officer of the Eastern Region. It was a very interesting session. The first week was at the University of Oklahoma at Norman. The second week was at the Aero Center. I am 95 and perhaps there may be some that are still around, or our members may have worked with them.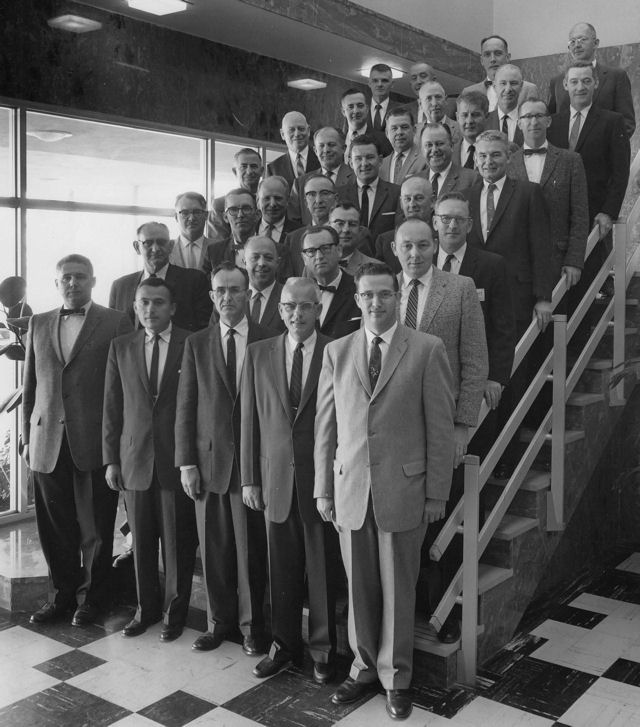 1st Executive School – October 1959
First Week Aeronautical Center
Second Week Universityof Oklahoma @ Norman
Row 1 Bubeck, Mark, Denning, Long, Werner
Row 2 Goudie, Wolfe, Anderson, Ireland
Row 3 Aldridge, Pulling, Farley, Luikart
Row 4 Horning, Williams, Newman
Row 5 Wall, Slaughter, Mathews
Row 6 Lewis, Buchanan
Row 7 Dean Olsen, Boatman, McKay, Weber
Row 8 Regan, Benzan, Smith, Alexander
Row 9 Roberts, Mitchell, Peterson, Fraser
---
In Memory of Dan Hamilton
Frank Frisbe #2871

I just received word of the passing last night of Dan Hamilton. Dan was an Eastern Region F&E guy who settled at NAFEC [ aka WJHTC] after a stay at 800 Independence Ave in R&D. One of my oldest friends – a college classmate – he will be sorely missed by many of the FAA fraternity. Pictured are four Manhattan College classmates who started at FAA in 1958 and all retired from FAA – Dan Hamilton , Joe Del Balzo, Jerry Markey & me. A sad day….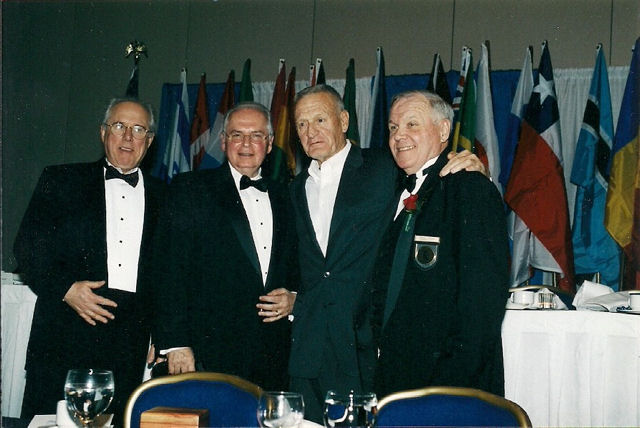 ---
Fun Loving "Attic Dwellers" Visited the Elks
Bob Ervin #3517
Some members of the Detroit Blues Society decided they would like an acoustic group, no amplifiers. Those interested started meeting in the Attic Bar on Jos Compeau in Hamtramck. They were talking about naming the group and Steve Gilbert suggested "The Attic Dellers." It stuck. That was 12 years ago and the Attic Bar is now gone and we have been meeting on the 2nd Sunday each month at other locations around that area in Hamtramck. We presently meet at The Polish American Veterans Post #6 and I am considered one of the stalwart regulars for nealy then years. The guy who took that picture, Lee Herberger, stage name Wolfgang Spyder, was the guy who ran it for nearly 11 years.
It took me a while to get them to accept an amp for vocals only and since the did, the product has improved greatly.
"Attic Dwellers"
Bob Ervin, Debbie Ervin, Vickie Newsom, and Ron Karvonen, mandolin, fiddle player and great friend!
---
"You Are Always Young"
Credits Dick Reynolds, #3563

Two 80 year young guys at the Gila Valley Lookout atop South Mountain in Phoenix yesterday. A group of my teammates came up from Tucson to do a practice climb for next months time trial on the same road (5.5 miles/1100 vertical). John Baliff celebrated his 80th earlier this month and I hope to make 82 in 15 days.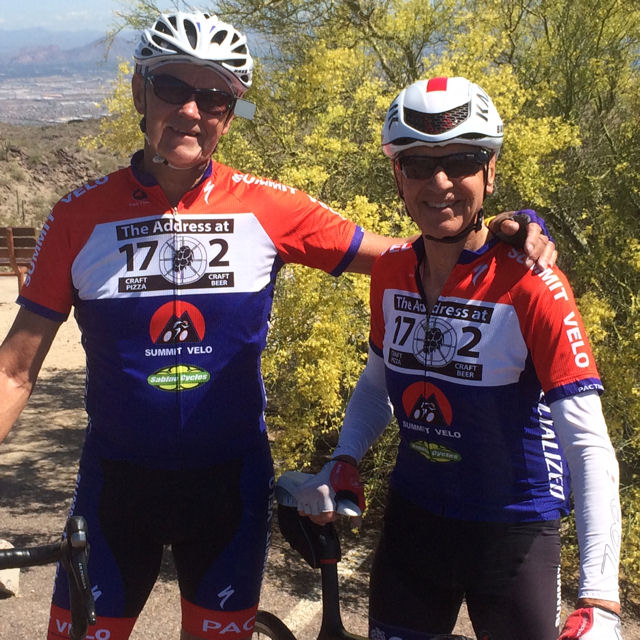 ---
© Society of Airway Pioneers
Robert "Bob" Long, Executive Director
Ron Cowles, Webmaster