---
The "good old days" at Denver Stapleton.
Dick Reynolds #5363
The old tower and FAL CV-580's
---
ZLA Retirees' Quarterly Luncheon
Pat Faux #3483
ZLA Retirees' Quarterly Luncheon, at Foxy's Landing - WJF airport in Lancaster, December 15, 2015.
Standing: Bob Harness, Bill Senechal, Jerry Koszyk, Jerry Stone, Frank Arcidiacono, Jake Garland, Mickey Burns, Jesse Neil, Skip Otis, Pat Faux, Gene Tiede, Fred Neumeyer, Tom Lynde, Denny Mayer, Cindy Pool and Lou Spencer. Seated: Harry Street, Don Allen, Bob Pease and Jim Busbee

---
Picture of Jim Brown in Costume
Jim Brown #3220
I received my copy of the annual last week. It has to be one of the issues in a long time with almost no input from me. I imagine there are others who will say "good, he always gets too much ink". But with my knee surgery and my rehab and the loss of Doreen, I have not had much motivation for writing. I will send a document one of these days that will give you more information. a lot more than anyone would want to know, about my 2015 year. I am attaching a photo of the first place winner of the Halloween costume party. In case you cannot tell "t'is moi" as Miss Piggy would say. I will also send some photos of my apartment and other pix of the facility. It is a big place with three buildings and a fourth to open in April. They have abut 500 residents right now. That is independent living and assisted living. The new building will be a "memory" unit and then they will build one for skilled nursing. There is too much in the document for the "FORUM" , but you can us the ones in my next mail and of course, the Phantom.
---
Snowbird Report
Warren Lichtenberg #3161
Larry and Sondra Langweil and Naomi and Warren Lichtenberg gathered last week at Mike's in Annapolis for their second annual crab feast. Sondra and Larry are Seen topping off the meal with nutty buddies while Naomi and Warren had Key Lime Pie for dessert. Both couples will be leaving in October for their winter homes in Boynton Beach, Florida
---
FAA Retirees Luncheon, August 6, 2015
Warren Lichtenberg #3161
On August 6th, 20 people gathered at the Far East Restaurant in Rockville, MD for a Chinese lunch with old friends from the FAA. Among those who attended were Harold Smetana, George Quinn, Vic Foose, Herb Backner, Bob Wein, Frank Frisbie, Norm Solat, Sondra and Larry Langweil, Bob Rovinsky, Murray Boris, Art Feinberg, Dave Spokley, John Horrocks, Bill Ornett, Jerry Bradley, and Naomi and Warren Lichtenberg. Diane and Ed Schuman even came down to Rockville from South Jersey to join us for an enjoyable afternoon. It was the first time in two years that we have had a luncheon in the DC area, but based on the attendance, we will schedule another luncheon next summer.
---
Happy 4th of July Everyone
Jim Turner #3420
July 4th Picture
---
Bob Ervin and Daughter Dawn at Dinner
Bob Ervin #3517
This is a picture that Deb posted of our daughter Dawn and me at dinner. We went to the very well known "Dirty Dog Jazz Cafe" where the food is good, overpriced, but the music is top notch! What a great Father's Day! Can't believe she will be 60 in a few months. This jazz club is owned and operated by Gretchen Valade who also owns Carhartt clothing company. She is a devotee of jazz and almost single handed rescued the jazz scene in the Detroit area. I met her last night and for a darn near 90 year old she is doing quit well.
---
Seattle Area Luncheons
Jerry Johnson 3582
Seattle ARTCC ZSE - We meet on the first Thursday of each month at the Rainbow Café at 112 E Main St, Auburn, WA 98002. There is lots of room. Please plan to attend
Seattle Terminal Area SEA & BFI - The Seattle Area terminal controllers meet semi annually on the 2nd Wednesday of June and December. We have moved a couple times in the last year or so but are comfortable at the Old Country Buffet at 1816 S 320th St, Federal Way, WA 98003 across from what we used to call the Sea-Tac Mall. We meet at 1100 for War Stories and begin having lunch around noon. Try to E-Mail Bruce Harpham at brucelaura@msn.com or by calling him at 253-874-9792.
Bev Swanson (BFI-T), Steve Zandell, Art Vail.



Harry Shephard, Tom Kinsman, Gary Gruvman (ZSE), Jim Hommel, UNK, Roy Keeehnel, Bob Alexander (BFI-T)



Bev Swanson (BFI-T), Steve Zandell, Art Vail, Joe Conner.



Dick Bosick, Joe Conner.



Jerry Johnson. Dick Prang, Art Vail, Dick Bosick
---
DTW/SOAP 2015 Annual Reunion
Jim and Carol Holtsclaw #2738
Bob and Debbie Ervin #3517
Left To right: In back, Vickie & Brian Newsom; far left Bob & Deb Ervin; then to her left is Russ Bracken with his wife Dottie in front of him; to her left is Mel & Barbara White; Slightly behind him is Ron Tuck who is partly in front of Don Moore in the back. To his left and in front is Hank Anderson & Connie is in front: to Hank's left is Barbara and Doug Lott who is standing next to Dick Wallerstedt; To his left is Rick with Mary Jane in front and to his right; beside her is Carol & Jim Holtsclaw.

We have just completed the 2015 (two day) DTW/SOAP Annual Reunion at the Marriott Courtyard, in Brighton, MI. Those that made the reunion had plenty of laughs, endured some of the same war stories (aka lies) and came away with a good feeling of comradeship with the others in attendance. Our two evening dinners were excellent; the informal first night and the more formal (must wear shoes and shirt or top) second night with our gratis professional photographer Bill Bertakis taking his excellent couples pictures. In other words, A Good Time Was Had By All.

A photograph of the group is provided for your viewing pleasure and awe…….
Yes, we do get a little older each year.
---
With Our Daughter at Clark Botanical Garden

Nora and Bob Goldman #2264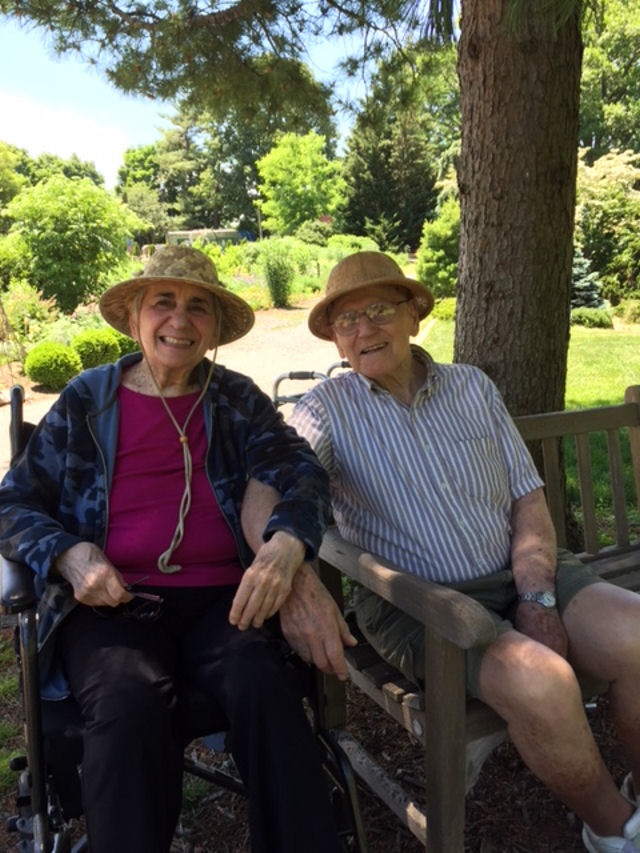 Our daughter Karen was visiting from Columbus, Ohio and urged that we take advantage of the splendid sunshine and fair weather for a visit to the Clark Botanical Gardens in Roslyn Heights. The unsurpassed loveliness of the clustered flower beds, herbal gardens and the stands of magnificent trees gave fragrance and sights to delight the senses. We took it all in with great pleasure and anticipation of our upcoming 64th wedding anniversary and Nora's progress in overcoming the difficulty of healing a complex three way fracture of the left femur in January of this year.
---
Charlene and Sid Wugalter #2953
15 years ago
---
FAA Retirees Luncheon Boynton Beech 2015
Anita and Herb Goldstein



Bob Klose and Irv Mark



Mr. and Mrs. Gerald Trainor



Naomi and Warren Lichtenberg



Sandy Walker and Terry Greenwood



Sondra and Larry Langweil
---
Annual Los Angeles FAA Luncheon
Credits Jim Holtsclaw #2738
Approximately 100 attendees had a very enjoyable time at their Annual Luncheon sponsored by SkyOne Credit Union.
Food was excellent and conversation was in abundance. They came, they saw, they listened and they enjoyed........
Presentations were made by the financial advisor for SkyOne Credit Union and yours truly, who was given the opportunity to talk about what is the definition of an Airway Pioneer, with a brief power point presentation of the History of the Society of Airway Pioneers. Two new members joined that day with several others promising to come on board. If you are to be in the LA area at this time of year in 2016, don't miss the next Annual Luncheon.
Album #1
https://plus.google.com/photos/112673525419502508429/albums/6119180486132492401
Album #2
FAA Retirees Luncheon February 23, 2015
Ayres Hotel, Hawthorne, CA

Feb 23, 2015
by Bradford Talamon

View Album
Play slideshow
---
My 83rd Birthday
Al Benson #2290
Well yesterday I woke up with a head cold. The plan was to watch some football on TV and then go into Winchester for dinner. Well it wasn't a very nice day and it was cold, so the plan changed. Our children were out of town except Nancy and Danny, so Marlene called Nancy and we decided we would have our little party at home. Nancy stopped on the way to our house for Chinese. Marlene made a chocolate cake, she had a figure 8 and three candles on the cake.

We even had a few drinks and I had a little brandy after dinner. Nice time was had by all. Ha Ha!

You can't hide the aging factor from the pictures.
---
PDX Luncheon 1/6/2014
We met as scheduled in Clackamas, OR.
Credits to Jerry Johnson #3582

Larry Foster, Shirley Mason and Clint Wilkinson



Mrs. Dick Beck, Dick Beck and Dick Jensen



Dick Jensen, Bob Schultheis, Bonnie and Bob Eichel



Jerry Johnson and John Coppinger



Shirley Mason, Clint Wilkinson and Dick Beck's wife
---
© Society of Airway Pioneers
Robert "Bob" Long, Executive Director
Ron Cowles, Webmaster