---

Harry Shephard & Dick Bosik

Duane Montgomery & Jim Gillmore, Seated behind facing are Joe Phelan and Ed Gass, backs of Steve Bennet (looking back) and Tom Kinsman

Joe Phelan & Ed Gass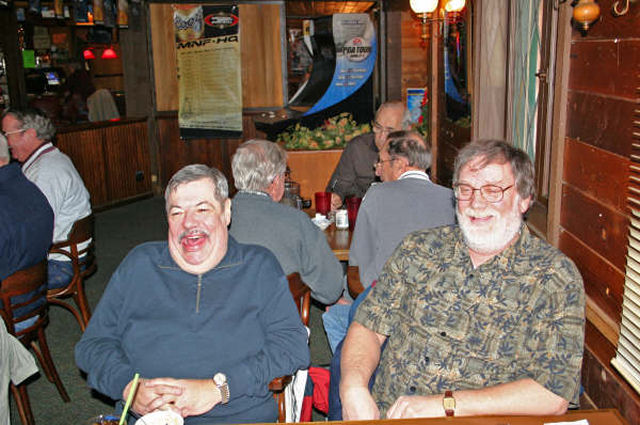 Tom (Tiki) Kinsman & Steve Bennet Seated at booth behind Jim Gillmore and Duane Montgomery (back of heads), facing is Dick Bosik; Roy Keehnel at bar.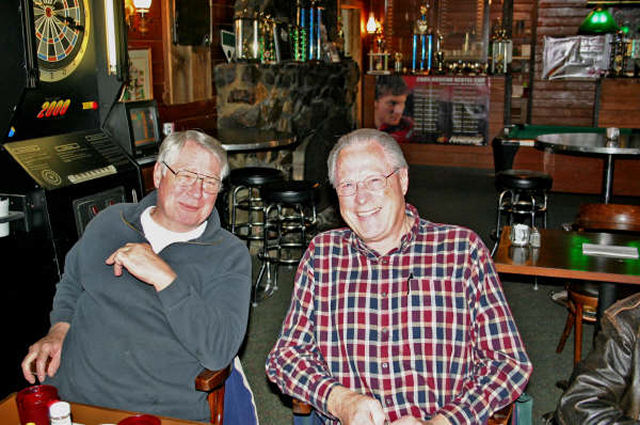 Larry Brennis & George Hickish

Arnald Guadelupe & David Darrow Behind Arnald is Tom Kinsman and Steve Bennet (by the window), behind David Darrow is Ed Gass and Joe Phelan (by the window).

Roy Keehnel & Jim Hommel Dick Bosik, Duane Montgomery and Jim Gillmore seated at the booth behind.

Bruce Hapham (standing) George Hickish, Bob Alexander & Art Vail
---
Grand Junction, Colorado


( L-R), Ed Marvin, Denny Enright, Norval Larsen, Harry Teegarden, Buck Molman
---
Great Lakes Reunion
From Bruce Hiles #3371
The seventh bi-annual Great Lakes Reunion was held in Indianapolis in September 2005. We had a very nice turnout (24 I believe) and had a great time. Any of you who have visited Indianapolis in the past, but not recently, would be amazed by the changes in the downtown area. It is worth a visit. Our hosts, Farrell and Mickey Smith did a superb job of organizing the affair. The accommodations at the Marriott Courtyard Downtown were excellent and probably could have only been surpassed by the Ashley Motel (Indy insider joke). Our next reunion will be hosted by Bob and Norma Sluyter in Florida in 2007.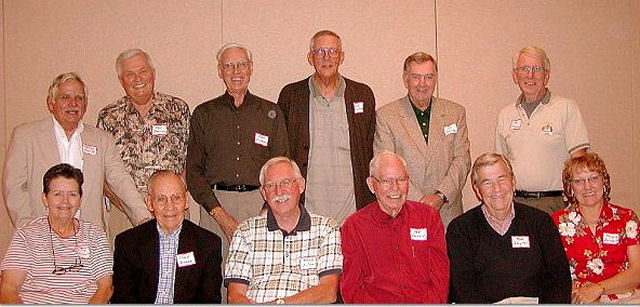 Back row left to right: Farrell Smith, Don Beeson, Dave Erickson, Teddy Burcham, Jim Murray and Roy O'Conner.
Front row, left to right: Kitty Kuhlmann, Lloyd Jensen, Bruce Hiles, Ted Carroll, Bob Sluyter and Jacque Burdette.

Back row left to right: Alice Burcham, Ann Erickson, Joan O'Conner, Mickey Smith,
Rosemary Altizer.
Front row, left to right: Faye Carroll, Luanne Beeson, Joan Murray, Rosa Hiles and
Jeanne Jensen.

"The Cake" with a picture of 2003 attendees

"Breakfast"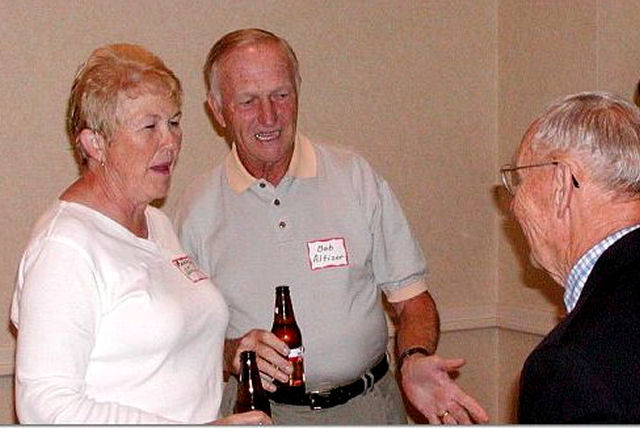 Rosemary & Bob Altizer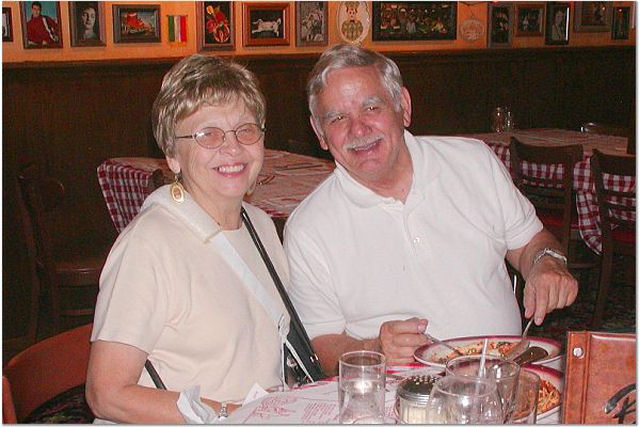 Our Hosts - Mickey & Farrell Smith
---
Submitted by Don Wiebel #3530 and taken at their recent meeting.

From left to right:
Ben Donahue #294 (long time Pioneer), Owen Leander, Jack Clerkin, Jim Liss, Herb Payor, Sylvester Chapa, Gry St. John (he, Ron Rinch & I started this group 10 year ago), Bill Thomas, Roger Bain, John Macuuley, Jane Jacabson & Ray Astrowski. A mixture of AF, Airports, Logistics and others, but no AT?
---
Orlando 2005
Thanks to Tom Jones and Ted Beckloff, the March 18, 19th, 2005 gathering was a great success. Thank you both.

The fun started as we got to the hotel on Friday afternoon. A lot of the members came in a day early just to spend a little extra time with good friends. MJ and I ran into Ed and Ann Malo, Ted and Virginia Beckloff, Tom and Barbara Jones, Floyd and Judy Hedlund, and Don and Linda Cass. That was just the start. We ended up with a party of 18 or 20 for dinner. With Barbara Jones as our appointed social director we were off to a local restaurant for a wonderful dinner.

After dinner it was back to the hotel piano bar for socializing and story swapping. It was great to spend this time with some of the people I worked with for so many years.

It was nice to meet some new friends from The Society that I had not met yet. The socializing continued on Saturday, all day, as members arrived. Lonnie and Odette Parrish, Doug and Barb Lott just to name a few. Some members took off to the Mall, to shop and spend money.

Barbara Jones and Linda Cass both asked for motorcycle rides. Since I just happened to have one with me, (MJ and I had just returned from Bike Week in Daytona), I was able to give them the rides Saturday morning. Iím saving more about this for the next Annual.

The party started at 5:30 pm in the piano bar with introductions, kudos to the appropriate people, and more socializing. Then it was time for the buffet dinner that Chef Angel had prepared for us. It was delicious. No one left the table hungry. A great time was had by all. More info coming in the 2005 Annual

These Society Gatherings are a great way to spend time with new and old friends. Let us know if you have any scheduled.
Rick Dawson #3535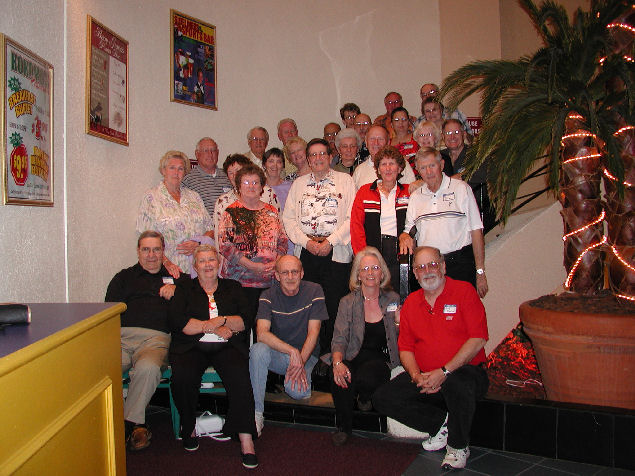 Orlando 2005 Group Picture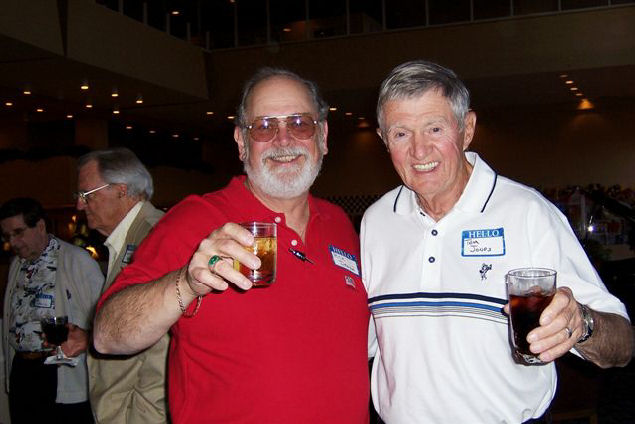 A Toast to You From Rick and Tom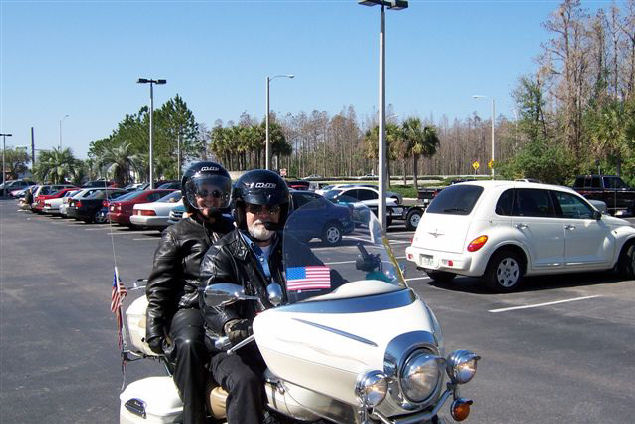 Barb Jones and Rick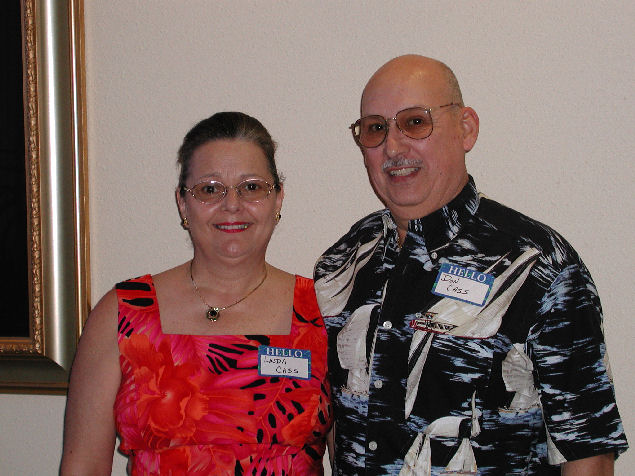 Don and Linda Cass

Doug and Barb Lott

Ed and Ann Malo

Floyd and Judy Hedlund